Stemettes was started after our co-founder Anne-Marie Imafidon visited Grace Hopper's Celebration of Women in Computing (GHC) for the very first time in 2012. 3600 women, 3 days and 1 keynote later she felt inspired and began a movement.
Such a formative experience is something she's often spoken & written about – something she wishes more young women were able to experience. So with our partner Deutsche Bank, we've worked on trying to establish regular trips to GHC as part of our more-than-mentoring Student to Stemette programme.
Five young women went in 2014 as part of the pilot Student to Stemette programme. The trip transformed their view of themselves and also of the world.  
This week the first set of five since our pilot will be attending GHC 2016 (or GHC '16) with nearly 15,000 others in Houston, TX. They'll be interviewed, will attend lectures & talks, and will hobnob at various company breakfasts, receptions and dinners – using all of the skills they've learnt from their Sherpas (mentors) in 4 months of the programme. On Saturday, they'll visit NASA.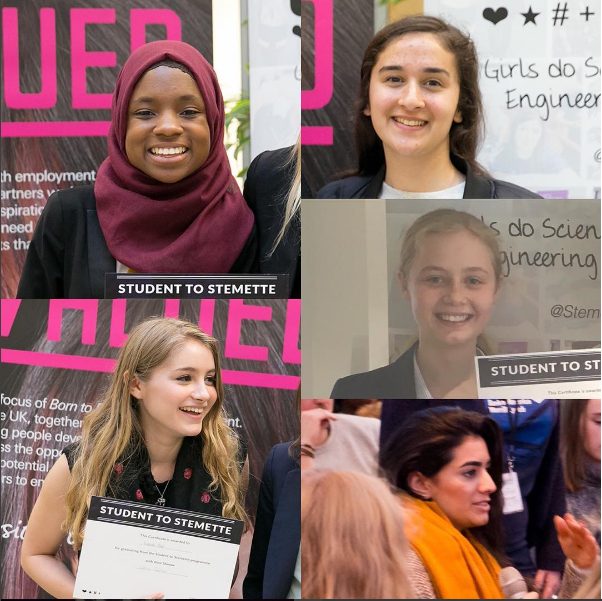 We're pleased to announce the girls who have been selected:
Laiba Khan, 15
Jasmine Simms, 16
Sawda Onanuga, 19
Hannah Blair, 20
Sunaina Aytan, 22
Sawda is looking forward to "The entire experience! Meeting people, the workshops, everything!". Laiba is looking forward to "The experience and weather as well". They will be accompanied by three chaperones including Head Stemette Anne-Marie and Sherpa Stemette/Programme Manager Yasmin Lodhi.
Stay up to date with their experience via our Stemettes Instagram account, Snapchat story and @StudentStemette Twitter account. Follow the entire conference on #ghc16.
And if you're attending GHC this year, look out for us and say hello.
Student to Stemette has been in flight for one year now with more than 40 students matched with women in Industry, and given work experience opportunities.