We've spent most of this month reflecting on our impact and taking stock of what we do, how we do things and who is doing them.
Since January this year, we've had over 400 girls at panel events, hackathons and our 'Stemettes in Schools' workshops – Tap & Tinker at school premises and STEM in a Day at STEM workplaces. We've collected data (like attitudes to STEM, desire to work in STEM and 'what you want to be when you grow up') from most of the girls that we've seen but what has been even nicer to look at has been their feedback. Here are 3 examples from sessions we've run just this month:
Portsmouth girls
We spent an afternoon at Portsmouth High School with 20 girls aged 8&9 from nearby primary schools, teaching them HTML basics and having fun with Mozilla's suite of webmaker tools.
"IT WAS ONE OF THE COOLEST SCHOOL TRIPS EVER!!!!!!!!!!!!!!!!!!!!!!!!!!!!!!!!!!!!!!!!!! THANK YOU"
"I wish we could do this all week because we all loved it."
"It was the best day of my life. The teachers were very kind I loved the biscuits"
"It was epic"
"I wish we could learn more!"
Out of 10, how would you rate the session? 10000000000000000
100% of the girls said they would like to come to another Stemettes event in our post-workshop survey.
Essex girls
We launched our Instagram at the beginning of April and since then have shared over a hundred photos and videos – including motivation sayings (#readyforMonday), Big Stemettes in our Hall of Fame (#stemetteoftheweek) and the occasional footage from our events.
Last week we shared some photos from an Accenture workshop we ran with 19 teenage girls from Essex – here's one of the comments we received.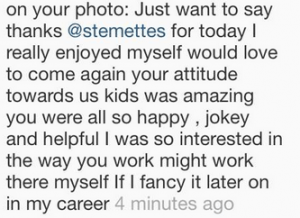 East London girls
Another successful session prompted this writeup from one of the participants:
On Friday we went to a place in London (Accenture offices) where we learnt about STEM. STEM stands for Science, Technology, Engineering and Maths. Their company want to introduce jobs for girls that we think only boys can do. At the place, we met some other girls who went to a school in Dagenham. Together we worked to produce our apps. The other girls were nice and friendly and made us feel welcome. Later we were given a cause and we had to make an emergency app to help others affected by the 'flood in Essex.'
Later we had to present our work to the CEO of Accenture which was nerve-racking. However, it was a really good experience as we got to see her and ask her questions about what she does for a living.
During the activity, we got to go upstairs on a tour we included going to the 'innovation hub.' Inside were new inventions which haven't been introduced to the UK yet. There was a new invention that was only known in America and they said that they loved it. Other apps involved the police and how they could record identity information without having to write it all down.
This overall experience was interesting because we got to have an opportunity to look at jobs which many people thought were only for boys. It was very inspiring as well and it made me want to work there.
All of this is due to the great support we have from STEM companies, like Accenture and Big Stemettes who get involved in the project and spend time with our girls – little Stemettes. Join our mailing list to be kept up-to-date on opportunities for you to inspire.