April has been (another) busy month at Stemettes HQ. As we recover from our Women's Day event and build up to our June panel event (which will feature a 'Summertime' theme) we've had several requests for partnerships shower in, and have been tied into organising several events outside of our Panel event/Hackathon/Exhibition schedule.
Mini Fashion Hack (April 9th)
Cassandra Harris from Freeformers (who sat on our March panel) invited us to join her at a 'Mini Fashion Hack' on the Strand, which featured two of the boys from Made in Chelsea, copious amounts of pizza and a load of 'API cards'. Little Stemettes got stuck in with ideas around the brief of 'wearable technology' and came up with ideas as diverse as a T-shirt which speaks directions to you and a watch which can help you out in emergencies. The creative, technical juices were flowing.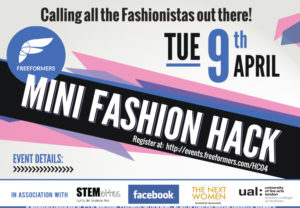 Hack the Barbican Bazaar (April 27th/28th)
This month will end with a few little Stemettes joining a 'Hack the Barbican Bazaar' event which, over one day will bring together entrepreneurs, technologists and artists at the world-famous Barbican venue. We'll spend a Sunday mashing together ideas and learning about ways to connect the three disciplines. A handful of Little Stemettes will get involved by capturing some of the action, proposing ideas, feeding back on ideas and getting stuck in with some of the artsy-meets-tech projects proposed. Watch out for the HackTheBarbican Tumblr, YouTube and Twitter accounts on the day. (This event is a test bed for a month-long 'Hack the Barbican' series of events in August, which we'll be a part of).
Digital Shoreditch – Make & Do (May 25th/26th)
In May, we'll be a part of the surprise Make & Do weekend at the huge Digital Shoreditch festival. We have a limited number of Stemettes space for Little Stemettes (and a guardian). Email stemettes@gmail.com if you'll be able to spend the weekend at the festival – we'll be doing some high-profile (but secret) stuff – it's all very exciting!
Stemettes at Big Bangs
We've also had confirmations for Big Bang London and Big Bang South East, so if you'll be in London on 3 & 4 July, or Exeter on June the 27th, be sure to sign up and come and visit our stands. If you're a Stemette who would be available on any of these days, get in touch too – we'd like you to meet some of the girls, and sit on a panel…check out date listings on our Events page.
Will you be famous?
Finally, we're working on a Stemettes trailer to add to our YouTube, and explain to everyone what we've been about so far – watch this space, if you've been at an event, you might be famous!