I was fortunate enough to attend the NTT panel event held in London during the October half-term. The event began with an introduction by David (Director of NTT) explaining what the company stands for, what it strives towards and how behind the hard work, there are incredible women involved.
Then, we were introduced to the main part of the event, the panellists. The panellists were full of successful and striving women ranging from the ages of 17 and older. One of the panellists that I was able to learn a lot from was Ella Willsmore, who was also the same age as me but in year 13. From Ella, I was able to comprehend what science means to her and how the enthusiasm and passion she has for science have led her to be very successful by triumphantly winning awards such as the CREST awards. Ella made me aware of the opportunities accessible out there for me within the science field.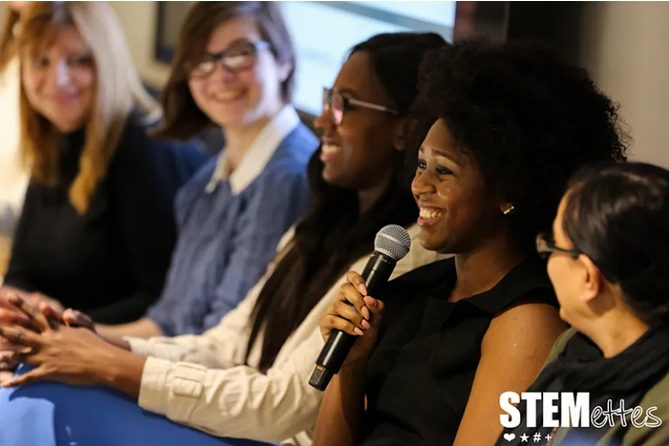 I was also very inspired and awed by the confidence and determination of Dr Clare Anyiam-Osigwe, who founded her own cosmetics company called Premae Skincare. What was interesting about Dr. Clare's case was that she had no science background but instead studied performing arts and drama. This made me aware that changing your career path is possible and that you don't necessarily have to always stick to your master plan because there will be issues that will derive you from that plan which is completely ok. Dr Clare was very successful with her business and she received the British Empire Medal from the Queen.
Afterwards, we had a networking session where we individually spoke to each panellist. This was a great opportunity to ask the panellists questions and learn more about their journeys into their STEM careers. One of the panellists whose advice impacted me was Jana Novohradska who came to the UK not knowing English. Jana's determination to reach her full potential began when she started to learn English. After learning English, she was able to complete her degree and gain a prestigious position in the Bank of Merrill Lynch and make robotics!
I was selected as one of four participants to do work experience at NTT. I shadowed Shally Shefer who is a delivery manager at NTT but also a huge supporter of feminism and was very active within the movement. Shally introduced me to her team and her office where I was able to see how important her role within this company is. I was able to talk to some of her colleagues and see what their roles were.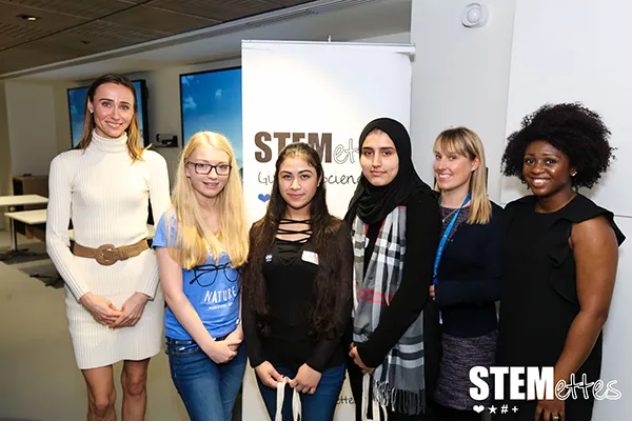 The event was completely worth the long journey. I was able to learn, gain and take so much (not just the incredible gifts, certificates and free food) but also that every girl can do STEM! I will be attending future STEMettes events to learn how to build my STEM career.
Thank you to our panellists: Jana Novohradska, Shally Shefer, Shrutica Patel, Dr Clare Anyiam-Osigwe BEM, Sophie Parker, Ella Wilsmore, Louise Maynard-Atem & Alex Sullivan. And a huge thank you to the event sponsor & host NTT Communications. Photos from the event are up on our Flickr.  
We run panel events throughout the year – they are listed on our home page but you'll hear about them first via our mailing list.