Meet Holly Boothroyd
Holly is a Stemette who started her journey in 2016 as a Sherpee (Stemettes' Mentee) on our more than just a mentoring programme Student to Stemette, sponsored by Deutsche Bank. Holly's Sherpa (Stemettes' Mentor), Anne, supported Holly's STS journey in cohort 4 and afterwards, Holly signed up to become a Sherpa herself. Inspired to become that supportive #womaninSTEM role model to empower another young Stemette.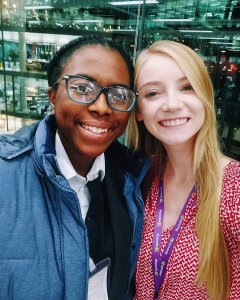 2019 was an incredible year for Holly, she supported her Sherpee, Lydia, in cohort 14 and then became one of our Stemette Ambassadors and joined us on our trip to the States to attend the world's largest gathering of Women in Computing – Grace Hopper Conference. Later that year she won her #TechWomen100 award.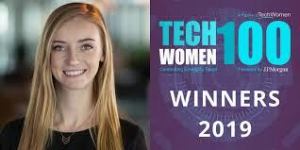 She's an incredible inspiration helping to paint the way for the next generation of women in STEM, continue reading to find out about her Grace Hopper Celebration experience.
As a STEMette Ambassador, I joined the Fab Five, the Student to STEMette competition winners, on their trip to the Grace Hopper Conference to document their experiences. Over the week, I learnt about their unique stories, passions and goals in STEM and the challenges they are working to overcome. Reflecting on the key takeaways that I saw across the Fab Five, a few themes stood out: the discovery of their direction, the impact of role models, and the power of camaraderie.
Discovery of Their Direction
Each of the Fab Five is in the early stages of their career with many things yet to discover about themselves and the STEM industries. I spoke to each of them at the start of the week about what they did and their passions in STEM, and it seemed like they were all at the beginning of a new chapter. Over the week it was clear that the conference sessions, the women they met, and the general atmosphere began to focus their thoughts so they could hone in on where they wanted to take their careers, what impact they could make, and where their passions could intersect with technology.
Many of the speakers' career journeys ebbed and flowed through different industries and seemingly unrelated roles; however, each eventually landed themselves in a career where they were thriving and making a true impact. To demonstrate, in one panel a speaker started as a harp player and eventually became a GitHub lawyer! These stories of personal discovery from incredibly successful women and real-life role models reassure those with unanswered questions about their career direction that they are on the right track.
One of my favourite things that Akua, a Makers boot camp graduate, said to me was that she was learning to appreciate her journey. Over the week, I saw her embrace her boot camp education more and realize that her unique perspective is an enormous asset to her team at Lyst where she is now a software engineer!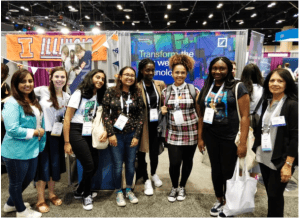 In Hadiyah and Vanessa, who do not come from computer science backgrounds but are instead maths students, I saw two things: a new awareness of the career possibilities that are open to their degree and an increased interest in the intersection of technology and maths. While many people are not exposed to programming before university, women have an additional societal barrier for them to overcome to pursue computer science. In my network, many female software engineers transitioned from other industries into technology after they were finally exposed to programming because it appealed to their interests in making a large-scale impact, love of being creative, and opportunity to problem solve. The Grace Hopper sessions and careers fair revealed the variety of careers that are available for not just computer science students, but students from all backgrounds, particularly those studying other STEM subjects. Each of the Fab Five left with a greater understanding of their career options and what skills they needed to be successful in them.
Beyond uncovering new career opportunities, the Grace Hopper Conference also fed the Fab Fives technical interests. Ayushi, a degree apprentice at KPMG and Queen Mary University, packed her itinerary with cybersecurity content. When speaking to her at the end of the day about her sessions, you could feel the excitement and passion for security technology radiating from her.
Continuing along a similar thread, Becky and I had really interesting conversations about the types of technology that interest her. We spoke about her personal life, the challenges of those around her, and what kind of impact she wants to have on the world. After speaking about Jhillika Kumar, the Anita B Student of Vision winner, on her work that increases employment opportunities for those on the autism spectrum, Becky began to explore the technologies that were personal and relevant to her and those close to her. She identified that she has a strong interest in AI and how we can use technology to build a more inclusive world, particularly for the neurodiverse. Grace Hopper was an investment into the Fab Five's technical education and encouraged each of them to continue learning about subjects that fascinate them.
The Impact of Role Models
This year the Grace Hopper Conference was packed with 26,000 women in technology – that scale of female tech talent all in one place is unheard of outside of this event. Amongst the many thousands of women in tech, there were countless role models for the Fab Five and the other attendees. Many of the Fab Five expressed to me how they finally found role models who looked like them and were interested in the same technologies. They learnt from their role model's industry experiences and applied these lessons to their careers.
However, the impact of these role models didn't stop there. The Fab Five left Grace Hopper motivated and inspired to continue sharing their stories and to become role models themselves. This year Akua created Anomalys Views, a platform where she shares her educational experiences and lessons on resilience. Vanessa has also created the blog Vanessa Speaks where she documents her journey to make STEM subjects seem less intimidating, as well as starting Project Insight where she shares the stories of other women in STEM and provides insight into how to enter STEM careers.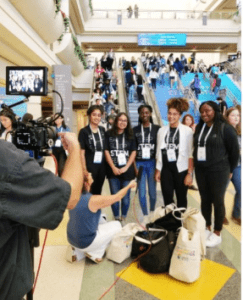 Eventually, those who previously sought out role models become role models themselves. As Akua learnt from an inspiring woman in STEM, "You have to be the one who shouts about you the loudest", meaning you need to share your story and make your message heard. Their stories about how they endeavoured for greatness and pushed through barriers help inspire and empower the next set of women to join the industry. Having a familiar face to look up to makes a huge impact on people and can dramatically change the course of people's lives. They uplift others just as they have been uplifted themselves. These role models encourage others to create an impact with their new skills and to dream big.
The Power of Camaraderie
What made the Student to STEMette Grace Hopper trip so impactful was the camaraderie that was built between the Fab Five. At the start of the trip, these young women were acquaintances. They had met a couple of times previously, but they had a lot to learn about and from each other. Over the week, they shared their stories, found common interests, created memories that will last a lifetime, and became a tech girl gang that will forever uplift each other.
They helped each other with confidence issues, encouraged each other to make progress towards their goals, and drew inspiration from each other. The Fab Five and I now have plans to start a Working Out Loud peer support group to hold ourselves accountable for our goals that have arisen from the Grace Hopper Conference.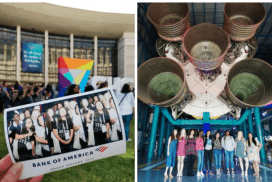 The magic of Grace Hopper did not end when the plane landed back in London; the true impact of Grace Hopper will become apparent in the coming years as the Fab Five keep pushing for progress with the support of each other. They started as strangers but left as sisters.
Thank You STEMettes & Deutsche Bank
After a week of being in each other's company amongst thousands of women at Grace Hopper, the evolution of the Fab Five was phenomenal. Providing these young women with the opportunity to attend GHC came, at what I believe, was a really important time for each of them. This trip provided guidance and direction to their plans that will shape the trajectory of their future.
It was an honour to hear their stories and watch them grow as women in STEM. Attending as a group was fundamental to this change and I honestly believe that they will be lifelong friends who will cherish these memories forever. A huge thanks is owed to the Stemettes and Deutsche Bank for providing them and me with the opportunity to attend the Grace Hopper Celebration. We will all look back on this week in October 2019 as one that changed our lives.