We're more than proud of our Student to Stemette 'more-than-mentoring' programme and everything our 'Sherpees' achieve. From winning the Undergraduate of the Year Award for Innovation to becoming an Arkwright Fellow. From observing industry on the programme to entering industry and coming back to support the programme. We're incredibly lucky to be able to support so many young women as part of Deutsche Bank's Born to Be Citizenship programme.
This year, for the third time we took 5 Sherpees on a trip to a tech conference in the US. Dreamforce is the annual conference of Stemettes' long-term partner Salesforce – a celebration of technology, their platform and their partners. An estimated 171,000 people attended this year as it took place again in San Francisco.
The 5 Sherpees selected were:
Telsia Brake, 16
Kelsey Chan, 20
Sofia E, 16
Tahanni Hussein, 18
Sharmin Islam, 16
With the help of various partners, we pulled together a jampacked itinerary for the week. Office tours of Facebook, Bloomberg, Slack and Dropbox in amongst tourist attractions like Alcatraz & the Redwoods kept us all busy. Meeting engineers, product managers and all manner of women in technical roles meant a lot of learning took place. Seeing Michelle Obama, Will.i.am & Natalie Portman on stage at Dreamforce added to the constant highlights. And the local cuisine did not disappoint either, even if we were a group of halal-only, vegetarians and picky eaters!
For each young woman, the trip was impactful in a unique way.
Sharmin was excited to get assurance that pursuing her dreams of a Maths degree means that she can go on to do pretty much any STEM-related role.
Tahanni learnt that you can be anything you want to be as long as you work hard, and that self-care is important. She also experienced her first-ever live broadcast on BBC News. You can watch it here.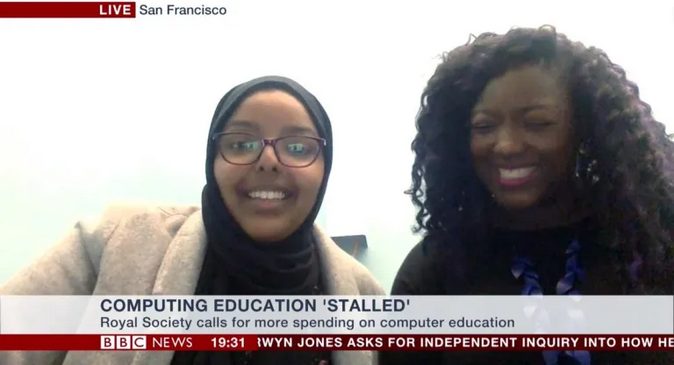 Kelsey discovered that diversity everywhere is key, but also that as part of the next generation, adults appreciate that she can solve problems they haven't yet been able to.
Sofia discovered the variety of less obvious roles available at companies like Facebook – Product Managers exist! She also learnt to take opportunities when they come.
Telsia picked up that we all should advocate for things such as education, healthy living and equal rights, not just a few people doing lots of work but thousands doing lots of work.
In the coming weeks, we'll be sharing their blog posts on the trip with more details about what they took away from it. Next year we'll be doing the trip again with 5 more young women from the programme.