This is the first post, of hopefully many, which chronicles the journey to a world where girls are just as interested in becoming princesses and popstars as they are in becoming coders and chemists.
Why?
No one is in doubt that there is a problem with the uptake of Females in the STEM fields (Science, Technology, Engineering and Mathematics). There are several given reasons why girls don't do STEM:
Don't see women doing 'Sciency things'
Don't think you can do 'Sciency things' and be a mum
Don't 'get' Science
Think Science is for boys
Don't find Science exciting
Don't understand what careers are available in STEM
Poor guidance on careers in STEM
Discouraged from entering STEM (due to it's image and lack of prestige)
What next?
I have three ideas brewing. One of which is slightly more formed than the other two.
Idea 1: A 'women in technology' panel event in March, International Women's Month
International Women's Day is on Friday, March 8th 2013. By extension, International Women's Month is March. London-based social enterprise Inspirational YOU have asked me to help put together an event to celebrate and promote Women in STEM around this date. I'd like to do a couple of hours in the evening, with students, young professionals, and senior women in STEM, sharing their expertise, experience and encouragement.
Idea 2: A 48-hour women-only/women-focused Hackathon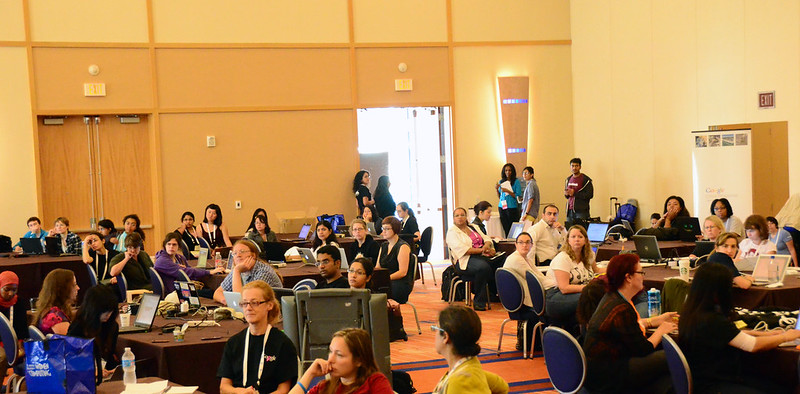 I spoke at the Grace Hopper Conference in Baltimore in October 2012, a three-day conference of 3600 women in Computing which concluded with an Open Source Hack Day. Having attended many hackathons in my time, all of which I've thoroughly enjoyed I'd like to organise a 'womens-only'/'women-friendly' hackathon. Think wine (in addition to the usual beer), childcare and 48 hours of coding to solve real-world problems, help real-world situations and learn from women who know their way around PHP, Ruby on Rails and Javascript.
Idea 3: A week-long 'Girls in STEM' event for Primary children, Secondary students, Tertiary students, Teachers and Parents
A slightly more ambitious idea: We make STEM fun for girls by putting on an expo like never before, showcasing 3D printers, Robocode tournaments, LEGO construction games and other cool STEM activities that girls can get involved with, to meet women who work in STEM fields and see that little girls can grow up to code, do chemistry and work in construction too.
What is needed?
Before we call the press, sponsors and schools (and there is a long list of organisations I'd like to get involved with), we need a core team of impassioned individuals who can offer guidance, advice, their thoughts and some time for honing these ideas. People who have run events before are very welcome! Reply in the comments or email me at Stemettes@gmail.com
For more about me and some clues to why I care, read my main blog at www.aimafidon.com