We celebrate International Women's Day in a big way each year. This year we outdid ourselves with a total of 8 events across Birmingham, Manchester and London. Here's a roundup of what happened that day.
9.00 – Yasmin gave a speech at NTT Communications, London
We hosted a panel event at NTT back in October so came back to celebrate IWD with them and share how we do what we do. Yasmin Lodhi spoke for an hour on The Stemette Life and our impact on thousands of girls and young women.
11.30 – Yasmin at Anglo American, London
Yasmin then headed over to Anglo American to supervise 5 of our Student Stemettes. They were on a panel to talk about their experiences on our Student to Stemette programme and about the women who inspire them.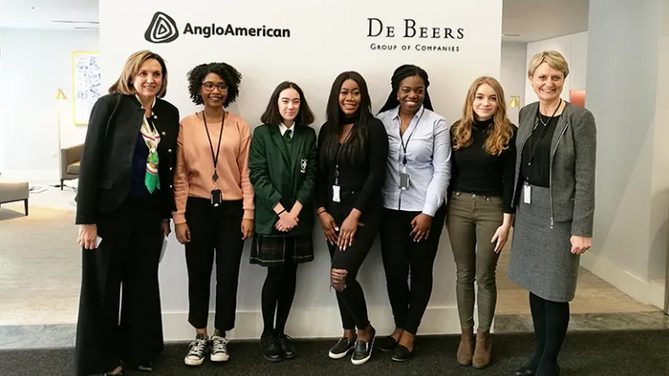 5 of our student @Stemettes celebrated #IWD2018 with @AngloAmerican and @DeBeers on a #pressforprogress panel #inspirational #womeninSTEM #youngleaders pic.twitter.com/H5eUF1KyfT

— Stemettes ® ?★ # + (@Stemettes) March 8, 2018
11.45 – HRH Prince Harry and Ms Meghan Markle at Millennium Point, Birmingham
Our biggest event was at Millennium Point in Birmingham. We had 90 local schoolgirls join us to take part in a panel event with a royal twist. We kicked off the event with some STEM activities (like Makey Makeys, Pringle Enigma Cyphers and Hack the Web) in front of none other than HRH Prince Harry and Meghan Markle. They got stuck into the activities and then heard from 3 girls about women who inspired them. We then went back to business as usual and heard from a panel of STEM industry people before closing after some speed networking games.
17.30 – Yasmin at Deutsche Bank, Canary Wharf
After a short break, Sherpa Stemette Yasmin then headed across to Student to Stemette partner Deutsche Bank's offices in Canary Wharf. She was joined by Outbox Executive Sobelema Atemie who will be interning in their Technology department this Summer. She spoke about her experiences to open the event and then Yasmin sat on a panel alongside some Deutsche Bank role models.
One of our leading Student Stemettes @SobelemaA is #keynoting @dbCitizenship #PressforProgress #IWD2018 #youngleader #womeninSTEM sharing the importance of having a #sherpa / #rolemodel ?♥️ pic.twitter.com/Gtdv91tsPa

— Stemettes ® ?★ # + (@Stemettes) March 8, 2018
18.00 – Reception at Downing Street, London
Fresh off the train from Birmingham, Charlotte & Lucy headed straight to Downing Street for a reception at No 11 with Chief Secretary to the Treasure Liz Truss & Dame Helena Morrissey. (They're at the back in the second photo). They also stopped for a quick photo outside the famous door!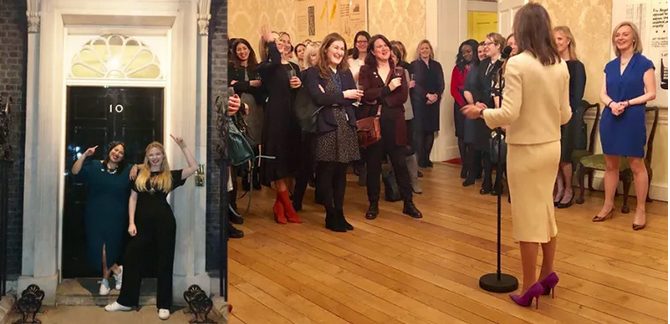 18.30 – Reception at City Hall, London
Head Stemette Anne-Marie got off the train from Birmingham and went straight to Greater London Assembly City Hall, to speak about #PressforProgress and what that means for women in STEM. She was on alongside Mayor Sadiq Khan, Fire Commissioner Dany Cotton and Amy Lame.
Great to have @aimafidon talking about the important of women and STEM @MissAshaPhilip on women and sport @AmikaGeorge on her #FreePeriods campaign as our first set of speakers #IWD2018 #PressForProgress pic.twitter.com/8Kr9aJBwFf

— London Assembly (@LondonAssembly) March 8, 2018
19.30 – Booking.com Techplaymakers Awards
One hour later Head Stemette Anne-Marie headed across to get some dinner at the Inaugural Techplaymakers Awards at the Museum of London. She won 'Role Model of the Year' and met some fantastic women in STEM too.
What a way to end #iwd2018. Thanks to the @bookingcom #techplaymaker judges for celebrating so many awesome #womenintech pic.twitter.com/cFwkMyVVBc

— Dr Anne-Marie 'pronounces it haitch' Imafidon MBE (@aimafidon) March 8, 2018
20.15 – MOSI, Manchester
Technology is fantastic, so only 30 minutes later Head Stemette virtually joined a special International Women's Day panel at the Museum of Science and Industry in Manchester. She appeared on the big screen to talk about Stemette's next steps and then posed a question to the panel.
Head stemette @aimafidon gives her 'virtual' question – asking what the panel want to see happen? pic.twitter.com/tcA7oYbGQm

— Science and Industry Museum (@sim_manchester) March 8, 2018
And with that, the day was over. International Women's Day 2019 will be on Friday 8th March 2019, but the work to PressForProgress continues. The Stemettes celebrate women in STEM every day – follow along on our Instagram, Twitter & Facebook!