Kelsey, 20, is studying for a degree in Computer Science at Aston University and is a part of our Student to Stemette programme. These are excerpts from her Tumblr post. She was one of five participants selected to attend this year's Dreamforce in San Francisco from Nov 4 to 11 2017.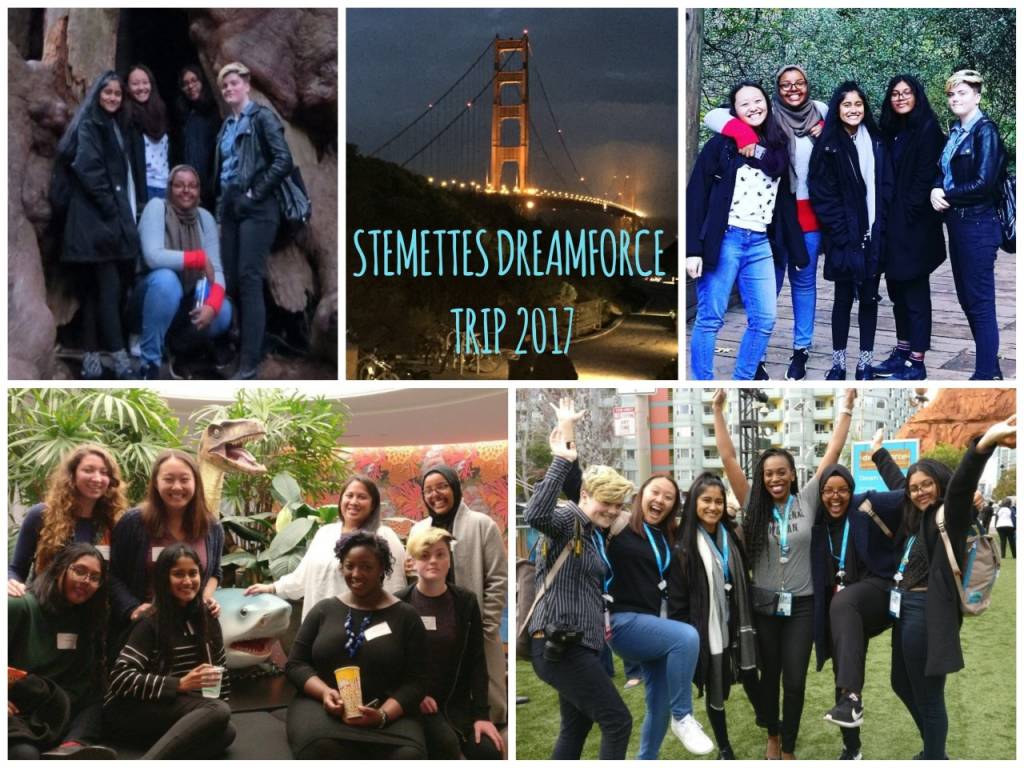 Thanks to Stemettes and Deutsche Bank, I and 4 other ladies were flown out to San Francisco to attend Dreamforce 2017! This blog post is going to be a rundown of everything that happened, how awesome it was and how you could be flying off next year to attend a conference with Stemettes ✈️
Dreamforce begins
The next thing we did was file into Moscone Centre North for the CEO, Marc Benioff to listen to his keynote ?️.  It was interesting to hear more about Salesforce, how much he valued his Trailblazers and how inspirational they can be. He also mentioned the 4th industrial revolution and how  "the world is in the midst of a wave of innovation and technology that is radically changing our economies, our societies, and our daily lives".
Visiting Facebook HQ
Then we hopped in some cars to go visit the Facebook offices. We signed into the system in a little waiting area and a lady named Emmaka Porchea-Veneszee came and welcomed us. She took us to the food area to grab something to eat and explained what she did while working at Facebook. She was a briefing assistant to Mark Zuckerberg. She prepares him for each meeting, gives him all the background information about the people he is talking to and tells him anything else he needs to know so he's prepared. There was such a wide variety of food available- a huge buffet restaurant, a noodle shop, a BBQ place and also a dessert shop just to name a few places, and it was all for free! She then walked us over to another building and we went to a meeting room and met another lady named Meghan Buonaiuto, and she talked to us about her role as a product manager and she let us ask her all kinds of questions like how she came into this role and what she did at college. Then another lady came in, she was the Executive Assistant to Mark Zuckerberg and she didn't have long so she just talked about her role, what it entailed and how she'd been at the company for over 6 years.
Reflections
From this trip I've met so many inspirational people, especially women, that have made me so much more inspired to work even harder and that if I do that I really can get anywhere I want. Even though at university I'm just one of a handful of women in my Computer Science course right now, it doesn't have to be like that in the future ?‍?.
It's also made me more open to the idea of helping inspire others. During the week I was so honoured that so many women at these companies were willing to take time out of their busy schedules to take us around their offices and talk to us about their jobs and their path to success.
The only reason I was able to enter this competition was because of the Student to Stemette programme run by Stemettes. I signed up by chance, I was looking for summer work experience opportunities in my first year at university and came across the page, thought it sounded interesting so I signed up and I'm so glad I did. From the first meeting with my Sherpa (shout out to Neha who works at Deutsche Bank in Birmingham whoop whoop ??) she taught me things about the world of work that I just couldn't learn at university. She shared stories of her time working at the bank and also her beginnings as an electronics student.
If you live in or near Birmingham or London you should sign up for the scheme- there's nothing to lose! You get to attend meetings with your assigned Sherpa (the mentor), you get free swag, amazing advice about working within the STEM industry and sometimes even work experience opportunities with Stemettes who organise all kinds of events all over the country!
This experience was part of the Student to Stemette programme run in partnership with Deutsche Bank's Born to Be citizenship programme. More details about the programme are available on the Student to Stemette website. Next year's conference will be happening in Houston, Texas, and we will be taking five more young women, selected from this year's mentoring cohorts.