Sobelema, 19, is studying Computer Science at Queen Mary University and was an Outbox Executive on the Outbox Incubator in 2015.
That time of year has come again to have young minds blown away by the possibilities that await them in STEM. This time Stemettes chose the theme of #RocketIntoSTEM by honouring Mary Jackson and the other women of NASA who made the moon landing of '69 possible. Thankfully, these women are finally getting their chance in the (moon)light *pun intended* with the upcoming release of the film, Hidden Figures.
Walking into the stylish offices of Morgan Stanley I was immediately comforted by the upbeat sounds of pop music and girls laughing; a strange contrast to the corporate surroundings. Check-in was fast and efficient, the wi-fi was strong (hallelujah!) and guests quickly began mingling with each other.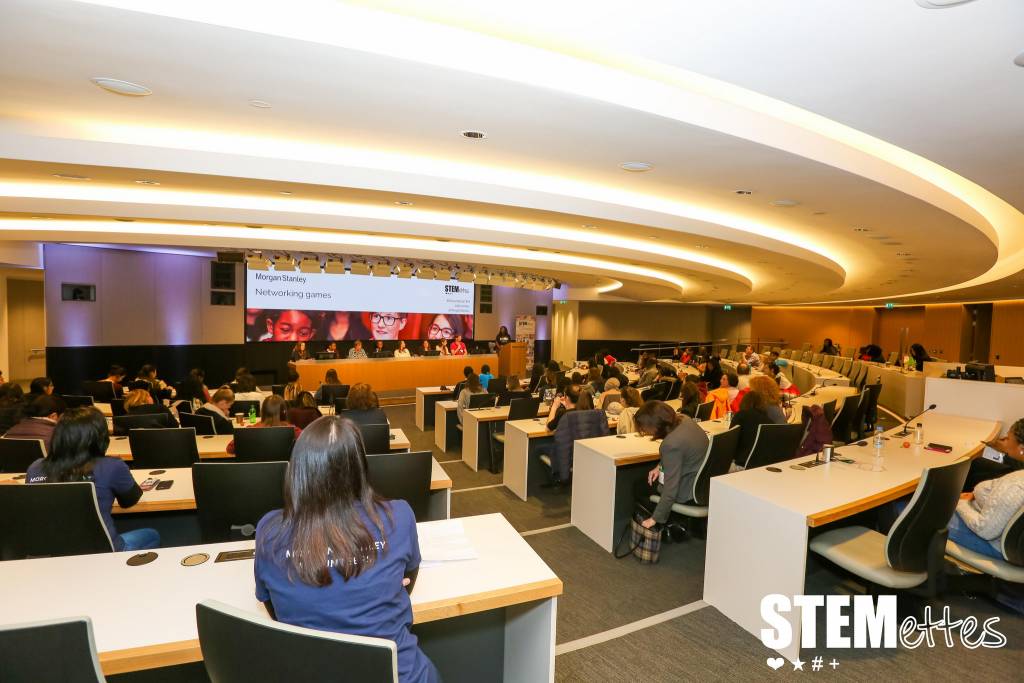 After being ushered into a UN-style conference room we were warmly welcomed by the Morgan Stanley team. It was encouraging to see how a big corporation like Morgan Stanley is committed to tackling the imbalance of women in STEM and issues like the gender pay gap by working with organisations such as Stemettes. This is how investment in the future of STEM is done!
Next, we were introduced to a stellar panel who raced against the clock to give a brief overview of their careers and achievements – a hard task for some – but luckily they had an opportunity to further expand during the Q&A session that followed.
The event's panel consisted of several inspiring 'Marys' plus one 'Mystery Man':
Susan Bowen – has worked for the likes of American Express and HP and is now VP and General Manager, EMEA at Cogeco Peer 1
Phebe Ekregbesi – a Biomedical student at the University of Bath who is in a placement year at the London School of Hygiene and Tropical Medicine
Christine Martin – is the Sales Operating Director at Metaswitch Networks
Kathryn Plummer – a Physics Student at Imperial College London
Anna Patching – works as a Sound Engineer at OBStv
Dr Kit Carter – is a Solicitor Advocate at Carpmaels & Ransford LLP (& former Medical Researcher)
Marina Johnson – is currently an Analyst in the Fixed Income Division at Morgan Stanley
Luke Stephens – is the Managing Director and Global Head of FX eTrading Technology at Morgan Stanley
During the Q&A,  Head Stemette Anne-Marie threw our Marys a curveball by firing a series of challenging questions ranging from rocket ships to diseases. She was also sure to (rocket) launch us *another bad pun* into the festive spirit by offering some amazing prizes, such as Robot Kits and even a chance for work experience at Morgan Stanley, for those who listened closely.
On to the next order of business – free food! Morgan Stanley was kind enough to provide a variety of tasty cupcakes which were demolished during the 'Speed Dating' networking rounds as the Marys were given another opportunity to share more about their careers and experiences.
A common theme throughout the event was that you don't always have to take the conventional route to STEM. Our panellists described taking unconventional opportunities early in their careers that led down unexpected paths to STEM. If there was one thing you couldn't help but take away it was this: PASSION in whatever you do is the most important thing and you are not committed to any path you choose forever.
Photos from the event are up on our Flickr page.
Attendees gave it an average of 8.9 out of 10, 100% would want to come to another Stemettes event and 88% said their confidence in STEM had improved 'a lot'.
A huge thank you to our event partners and hosts Morgan Stanley for the experience, prizes and fun Saturday. Thanks also go to 21st Century Fox for especially sending us the Hidden Figures trailer to show at the event. You can find out more upcoming events on the Stemettes website or in our OtotheB app.