After the success of Eat.Sleep.STEM.Repeat. Earlier this year, we've been working on the next chapter in our Outbox Journey: our Stemillions STEM clubs. Inspiring young women is one thing. Empowering them to 'be the change' is another. It's been a hard slog to create a streamlined way to do this in a way that makes sense for lots of types of young women. We've also been very keen to ensure that everyone involved still gets an authentic Stemette experience; complete with food & fun.
This Summer, with our partners Accenture, Bank of America Merrill Lynch and Salesforce we ran our very first Summer Leadership Academies for existing and future Chief Stemillions Officers. Pitched as:
A chance to meet and learn from other young women in STEM from across the country, gain some leadership training and also to influence the next academic year of a Stemette life for others.
We attracted more than 70 applications from as far and wide as Dublin, Edinburgh & Manchester. We even had several applications from 'young at heart' women too.
With just 40 spaces across 3 dates, we whittled the applications down and invited young women to join us in London or virtually. Each day featured sessions onboarding girls to the tools for running their STEM clubs, Presentation and pitching skills, Time Management and Project Management and Career building. They also got a tour of the company offices – both quite swanky. Everyone left with a certificate and a shiny new digital badge.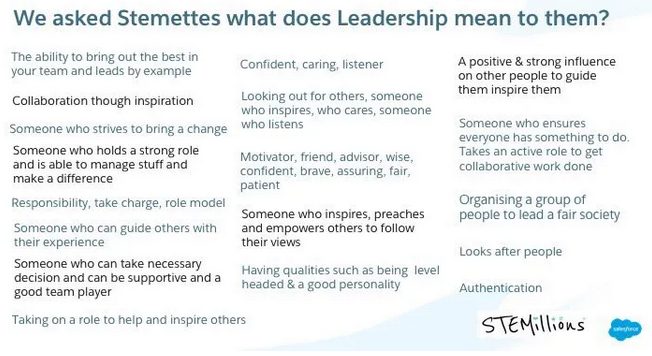 They gave it a 9 out of 10 and enjoyed having the experience:
"Before today, I was quite unsure what Stemillions is all about, but after today I feel confident enough to lead a group."
"My favourite moment was the 16 personalities test in the beginning."
"I loved all the talks and the activities, they were informative."
"Learning about biological clocks and how we can use them to work more efficiently"
"Doing the STEMillions workshop at the end and getting badges and information and doing the office tour"
"My least favourite part of the day was honestly nothing"
"My least favourite part was the lack of tea/chocolate at lunch"
"My least favourite part was the ending"
It wasn't a day without challenges:
"At first it was initiating conversation, but the girls here made me feel very welcome and comfortable"
"Learning how to do an elevator pitch. It was harder than I expected"
The other bit of feedback we got was: "Do more of them!" – which is exactly what we're doing. Registration opens next week for October half-term academies and will be announced in our next newsletter.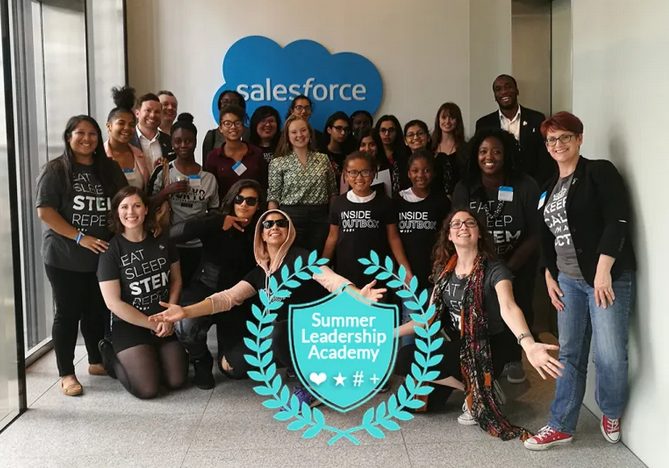 Many thanks to Accenture, Bank of America Merrill Lynch & Salesforce for making this possible. Here's to an incredible term for passing it forward to our newest STEM leaders.