For the first 2 week of August, I joined a huge number of like-minded STEMettes on the Outbox 2020 programme. Each morning, we were joined by a number of STEMazing role models, who talked us through their journey into their industries, while others were based around important, relevant topics, such as the development of sustainable fuels to use in our homes and cars. These talks gave us all a great insight on how we ourselves can open our own doors, as well as further both our knowledge and careers.
During the afternoon, we had group sessions in which our team picked a topic for a project. My group decided that creativity and diversity in the STEM workplace was an important topic that is often overlooked and wanted to raise awareness on why they are both essential and how they can be incorporated into a working environment.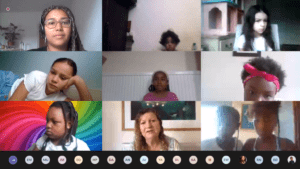 In some of our sessions, we were joined by role models from the Bank of America and Virgin Galactic. This gave us a fantastic opportunity to ask about their first-hand experiences, as well as gain advice on how to better our presentation. Their tips on presenting to audiences proved to be extremely helpful! After researching and compiling our findings into a short, interactive presentation, we presented this to all of the Sprint A members, as well as some industry experts, on the last day of the sprint.
The optional downtime sessions were also fun, from baking a vegan cake to practising calligraphy (which was my favourite). Although my time during Outbox passed by very quickly, it was a whirlwind of learning new things while simultaneously having fun. I gained a lot from my experience of the programme, including a wider perspective of STEM careers and industries, some new friends, and even a networking opportunity with the Virgin Galactic Team. (Let's not forget that wonderful goodie bag!) I'd like to thank STEMettes and their partners for hosting this event, as it gave a purpose to my otherwise somewhat mundane summer in lockdown.
Here is some feedback from the programme…
A total of 366 young people joined our Outbox Programme!
The attendees rated the experience 9.1/10
92% now feel more confident in their STEM abilities 
98% learnt something new about STEM 
Attendees joined from more than 10 countries around the world including: Burkina Faso, Canada, Czech Republic, India, Ireland, Italy, Kenya, Lebanon, Malaysia, Niger, USA and Zimbabwe