I enjoyed meeting inspiring women in STEM, developing my Cybersecurity and Python skills and having a lot of fun. Every day during August, I had the incredible opportunity to spend the first half of my morning developing my skills or listening to role models in a variety of different fields, ranging from astrophysicists to cybersecurity experts to aerospace engineers and having my knowledge of STEM careers grow massively.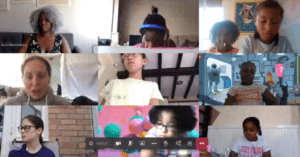 Later in the morning, we worked towards our qualifications, for the first two weeks, it was CISCO's Introduction to Cyber Security and for the second two weeks, it was the Python Institute's PCEP. These lectures were amazing opportunities to develop our skills in these areas and see how they apply themselves in many areas.
In the afternoons, we had the opportunity to work in small groups to make new friends with similar interests to us and also study for our qualifications and meet more role models who were incredibly inspiring to listen to. Later in the afternoon, we joined the younger age groups for downtime sessions, which included exercise, calligraphy, learning Korean with GCHQ, drawing with the Linnean Society and baking some very tasty food!
Although we were all disappointed when we found ourselves logging into Teams for the last time, we were all sent a goodie bag full of amazing things to remember the four weeks of fun we all shared. Thank you very much to the Stemettes and all of their partners for the best summer ever, especially during these strange times!