What I expected to be a boring summer stuck at home ended up being one of the best summers I've ever had! I took part in Sprint A and Sprint B of Stemettes' Outbox 2020 Program and I had so much fun! I learnt all about cool new career paths that I could pursue in the future, and after listening to all the inspiring and influential role models, my horizon of STEM careers expanded exponentially.
As part of the Outbox Connect Group, in the morning, we were all treated to some lovely presentations from some amazing role models in STEM, who enlightened us all with some incredible lectures. Ranging from linguists to botanists to astrophysicists, every single presentation was incredible and super enlightening!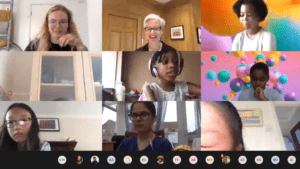 In the afternoon, we worked in groups of 5 to come up with a group project, which we would then present to the team at the end of the two weeks, based on either Academia, Industry, or Entrepreneurship. This enabled us to make friends and acquaintances from all different places and helped enrich our teamwork and communication skills. We also had so much fun together, and learned a lot about each other, which was great!
In the late afternoon, we would be able to join people of all ages and learn amazing new skills, such as yoga, baking no-bake foods, and learning new languages! And you know the best part? (and the most unexpected) We received goodie bags!! (I mean, it can't get better than that, can it?)
Thanks so much to all of Team Stemette and all their partners for organising such a wonderful experience for girls and non-binary people to enjoy! Hope to see you at the next event!
Here is some feedback from the programme…
A total of 366 young people joined our Outbox Programme!
The attendees rated the experience 9.1/10
92% now feel more confident in their STEM abilities
98% learnt something new about STEM
Attendees joined from more than 10 countries around the world including Burkina Faso, Canada, Czech Republic, India, Ireland, Italy, Kenya, Lebanon, Malaysia, Niger, USA and Zimbabwe
50 young people gained a Cisco Cyber certification
55 young people worked towards a PCEP Python certification