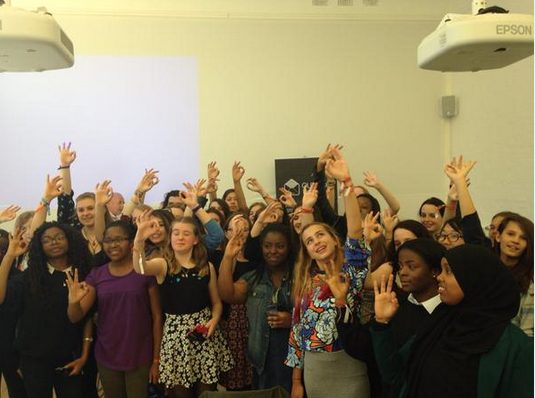 It's funny what you can see in a hug.
There are hugs and then there are hugs. At our Demo Day at O2 Think Big Hub on Saturday 15th August, girls won various categories for pitching for investment. There were definitely 'hugs' not just 'hugs' as the girls went up to rapturous applause. Winners and runners-up threw themselves into happy, smiley embraces. But more about that later.
An incubator can be many things. Those 'many things' can be crafted, sculpted, honed and refined by the team that works to set it up. What we have learnt, however, is that it is the participants that finally create and nurture all those 'many things' that an incubator can be.
Luckily for us, then, over these three weeks (where has the time gone?) we have had the pleasure of welcoming 70 of the warmest, most dedicated and accepting girls we could have wished for. The kind of girls that make all the blood, sweat and tears more than worthwhile. And what these girls do in bucket loads is collaborate and support each other.
Sunday evening. T minus 12 hours until the third cohort of Outbox execs arrives in the house. A tweet goes out, followed by a reply.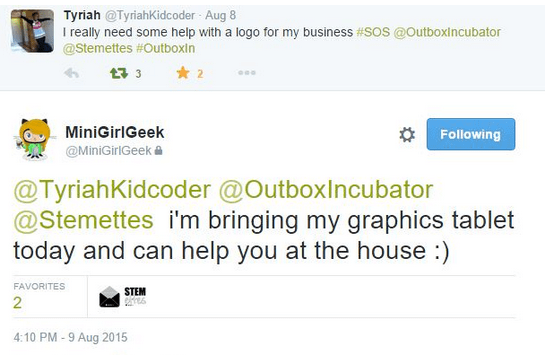 Hang on a second. Is that…no, it seems to be…really? A girl not yet in the house – though soon to be – pledging to work with Tyriah to improve her brand. Why would Amy reach out and promise to support someone whom she doesn't even know, let alone know if she gets along with, with time and skills that she could be using on her startup? And sorry Amy, but if you think you're not going to be busy in the house, you may have a little surprise coming your way…
I do know why. In week one, Stemettes Godmother, Ghislaine Boddington (Founder & CEO, body>data>space & Women Shift Digital) and her co-worker Marie Proffit (Women Shift Digital) led the first session of Outbox Incubator. 'Co-collaboration' and why it is essential to work with others for success in any startup or business. These girls weren't yet execs to see the session but being young women, passionate about STEM, business and creating impact, they have learnt Ghislaine's invaluable lessons from somewhere else. Women tend to get a bad rap for not supporting other women – and sometimes actively sabotaging and bad-mouthing each other. But we couldn't disagree more at the Stemettes. For the most part, women have an innate desire to support and create environments which facilitate for themselves and others – and so do our girls.
Fantastic. It created the perfect atmosphere for what has been an intense – and sometimes stressful and nerve-wracking – week. From Monday, Demo Day and a chance for every girl to impress investors to win investment was looming large. Outbox execs still attended every session and listened as intently as ever, but any minutes not spent in sessions (or eating – which even took a back seat!) were spent going over and over their pitches, tweaking their deck and coming to one of the Stemettes team for 'office hours' to discuss the finer points of their pitch. Silence often descended on the house, bedtime went out the window and when it came to getting the train to the O2 Think Big Hub (our kind venue sponsors with Telefonica for Demo Day), we honestly thought someone had stolen our loud, vibrant Outbox execs and replaced them with timid imposters. Give us back our girls! We had to feed them doughnuts to elicit any sign of normal life. Phew.
It would be an understatement to say that the girls did us proud on the day. I can't mention all of the 29 start-ups and their ideas and apps, but some of them were '4wardz', an interactive platform for children in hospitals; 'Agri-tag' to automate and digitise agricultural records; 'Free Feet ', an attachment for shoes to help people with Parkinson's walk; 'PurchaseMate', a barcode scanning app which lets you know about the sustainability and ethicality of the corporate that made your product. Some pitched to our panel of judges (including a venture capitalist who had flown over, especially from Ireland) for £3k, mentorship and an app developer, while others pitched for up to £10k.
At the beginning of that Saturday in Hoxton Square, Anne-Marie and Jacs talked to the audience about the Outbox journey: from a small seed of thought at the EU Innovation Convention in Brussels to a fully-fledged programme. They called it "a dream come true". I don't think either of them could have imagined quite how true those words would be until the end of Demo Day. Our execs had created fantastic start-ups (almost all of them in under three weeks), delivered perfect pitches for fantastic, socially good causes and were hungry to get back to the house and get cracking on the 'Incubation' phase of the incubator. But truth be told, we all needed a lie-down.
None of this would have been possible without the voracious collaboration and support I mentioned at the start of this post. We couldn't have launched Outbox without a lot of collaboration from Stemettes friends and sponsors (particularly Outbox principal sponsors, Salesforce), and the girls are each other's biggest fans and support networks. From when one feels faint to missing home to help design a logo. Clearly, from collaboration and support comes more of the same – it is infectious and so is the success and enthusiasm of our girls.
Watch this STEM startup space.
As always, thanks go out to all of the people who collaborated and supported the Stemettes this week through leading sessions and more:
Mary Youngs (Cloudsheraps)
Mark Quirk (Reach Remarkable)
Chloe Hole (topcoder)
Kerry Townsend (Cloudsherpas)
Louise Bishop & Kate Grogan (Steer)
Freya Finnerty (Sainsbury's)
Stuart Templeton (Salesforce)
Emma Chalwin (Salesforce)
Orsolya Anna Toth
Lee-Ann Knight (Salesforce)
Laurie Ainley (Founder, Donative).