Week 12 was Ada Lovelace's week!
This Monday, 21 attendees tuned in to follow along with our Stemillions Activity Pack (aka Meal Plan) based on the late Ada Lovelace. Ada was unarguably, one of the most inspirational mathematicians of all time and essentially the first computer programmer EVER! Core Stemette Jazmin introduced this week's role model, the girls were very excited to learn about Ada. For the activity, the attendees were asked to celebrate Ada's life and achievements by making a storyboard of her life. We learned a lot of fun facts about Ada that are less known to the public. Some of the girls got creative and wrote a poem about her life! During the show and tell we got to see the storyboards, timelines, posters and poems that the girls had made.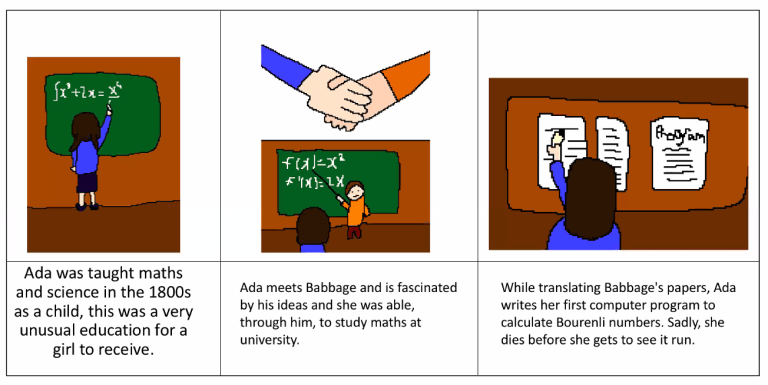 Jazmin #CoreStemette launches @STEMETTES MODE IN! ✅ Welcome to Week 12: Monday Meal Plan. Today we're learning all about inspirational mathematician and the first computer programmer Ada Lovelace.

#️⃣ #STEMModeIn

+ https://t.co/o8F73jeLEf#MondayMotivation#WomenInSTEM pic.twitter.com/VBZQYe4RSp

— Stemettes ® ?★ # + (@Stemettes) June 8, 2020
When we asked the attendees what they enjoyed most about the session they said:
"I enjoyed learning about someone in the 1800's as we usually learn about people in our time and she was part of the first computer to be ever created and I aspire to also be part of a brand new invention that will revolutionize the entire world."
"I enjoyed researching Ada Lovelace. She is very inspirational and deserves to be celebrated!"
On Wednesday, 38 attendees joined Event Stemette Charlotte as she hosted role models from Buildbox to lead a tutorial. The role models delivered an interactive, follow-along session introducing the attendees to their STEMtastic Buildbox software. Buildbox lets you create games without any coding involved! The software made game development more accessible to the girls and it was great to have female role models leading the way. They had lots of fun playing with the assets and learning how to use the software.
#EventStemette Charlotte launches @STEMETTES MODE IN!

✅ Week 12: @buildbox role models Nely, Gemma & Zack are delivering a session introducing you to their software that lets you create games without coding! ?

#️⃣ #STEMModeIn

+ https://t.co/o8F73jeLEf #WomenInSTEM pic.twitter.com/S30s2VagVk

— Stemettes ® ?★ # + (@Stemettes) June 10, 2020
Here are some quotes from the girls who joined the session about what they enjoyed the most:
"Being able to personalise the game and add your buildings and other assets."
"I enjoyed meeting the individuals behind the company, the majority of the hosts were female and that made a difference to me."
"I enjoyed being able to learn how to create games without having to do all the hard coding. I also enjoyed the support from the Buildbox Team and all the Little Stemettes when we all struggled."
129 folks tuned into this week's Friday Live session, hosted by Head Stemette Anne-Marie. Anne-Marie was joined by two STEMtastic Pharmaceutical role models, Stacy Aguilar and Kayisha Payne. Stacy works for GlaxoSmithKline, a British multinational pharmaceutical company. Kayisha works at AstraZeneca, a British-Swedish multinational pharmaceutical and biopharmaceutical company. Kayisha is also the founder of BBSTEM, a network for Black, British professionals in STEM. The role models gave us real career insight into the pharmaceutical industry as well as inspiring the girls in general with powerful advice. The attendees left great feedback for this session too.
"Learning more about medicine because I didn't know much about it before"
"I didn't think you guys would do a session on pharmaceuticals!"
Week 12 Friday Live #STEMModeIn Head Stemette @aimafidon tune in for Q&A with #STEM azing role models Stacy Aguilar and Kayisha Payne.

Join us LIVE https://t.co/wStBN4TKEd #WomenInSTEM#STEMeducation pic.twitter.com/F1pCqrlADv

— Stemettes ® ?★ # + (@Stemettes) June 12, 2020
We received some great overall feedback from week 12 too!
188 participants tuned in this week!
100% would like to attend another Stemettes event
96% shared their knowledge in STEM improved
94% shared their awareness of STEM improved
91% shared their perception of STEM improved
84% shared that their network in STEM improved
86% shared that their confidence in STEM improved
That should be all for STEM Mode In, however… We have a surprise week 13! Next week's role model is Michelle Willis from Vodafone- we can't wait to see you all for those events!