Week 9 was Cristina Pascalau's week!
This Monday 32 attendees tuned in to follow along with our Stemillions Activity Pack (aka Meal Plan) based on Cristina Pascalau. Cristina is a front-office software developer within FICC at Bank of America. Core Stemette Jazmin hosted a code-breaking session inspired by Cristina's career. Cristina made a guest appearance at the session and inspired the girls, detailing her STEMtastic career journey. For the activity this week, we asked the girls to create their codes. They translated the English alphabet into a series of symbols and numbers and then wrote a sentence in their new language for their peers to crack. Cristina was impressed by the complexity of the codes in the show and tell at the end of the session.
Our #STEMModeIn attendees got cracking with the coding! ⭐️ Inspired by our role model #SoftwareDeveloper Cristina Pascala, these are just some of the secret codes created.?#GirlsInSTEM#WomenInSTEM pic.twitter.com/TFHIwnlbG0

— Stemettes ® ?★ # + (@Stemettes) May 18, 2020
When we asked the attendees what they enjoyed most about the session they said:
"I loved making the code I thought the activity was very fun"
"I enjoyed writing using codes, – the same as they had done Bletchley Park"
"I enjoyed doing the codes. It was engaging and fun."
On Wednesday, 80 attendees joined Event Stemette Charlotte as she hosted Clare and Lisa from GCHQ. We were very excited to invite GCHQ back after their successful Friday live back in Week 7. In case you missed Week 7's session, GCHQ is the UK's intelligence, cyber and security agency. You might also have heard of their partners, MI5 and MI6!! This time around, Clare and Lisa explained why speaking foreign languages is so crucial in their STEM-focused organisation. Lisa also gave the attendees an introduction to the Arabic language, the girls learned basic phrases and how to count to 20. We were super impressed by how quickly participants picked the language up. It was great to learn more about GCHQ (although a lot of it is top secret). As-salamu alaykum!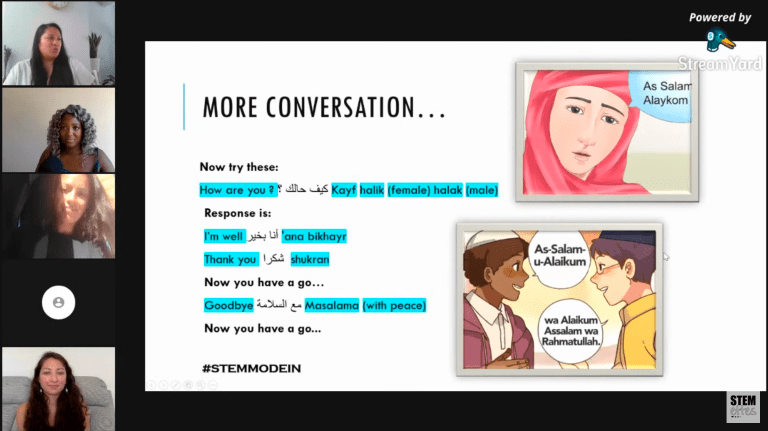 Welcome to WEEK 9: Wednesday Tutorial #STEMModeIn

✅ A taster session from @GCHQ on the Arabic language.#EventStemette Charlotte introduces our special guests Claire and Lisa.

#️⃣ #STEMModeIn

+ https://t.co/o8F73jeLEf#WomenInSTEM#WednesdayMotivation pic.twitter.com/7NELVIV8FU

— Stemettes ® ?★ # + (@Stemettes) May 20, 2020
Here are some quotes from the girls who joined the session about what they enjoyed the most:
"Beyond learning something I had never done before, the casual and engaging atmosphere made it enjoyable"
"Learning Arabic conversation skills and also learning about how languages are used at GCHQ. I now know that STEM and languages go very well together!"
"I enjoyed how the session included interactive elements as well as the mixture of facts, information and even the quiz to test our knowledge at the end"
99 folks tuned into this week's Friday Live session, hosted by Head Stemette Anne-Marie. Anne-Marie was joined by two STEMtastic role models from Just Eat – Head of Data Products, Ada Shum, and Senior Delivery Manager, Sarah Dowling. Each role model spoke about their STEM career journey and gave top tips and pieces of advice to the viewers. It was interesting to learn about what happens in the Just Eat HQ and how much technology goes into a food ordering company.
"I enjoyed the ability to ask questions to such a unique and prominent company"
"Sarah and Ada are very engaging speakers"
"Learning that JustEat is not just a food company"
"The speakers sharing their career stories – very inspiring!"
Head Stemette @aimafidon in conversation with #STEM role model Head of Data Products @JustEatGroup Ada Shum. ?

✅ Answering your Qs now Friday LIVE ?

+ https://t.co/Vpa6YXqNAZ #STEMModeIn #WomenInSTEM pic.twitter.com/1FRk1pxqp6

— Stemettes ® ?★ # + (@Stemettes) May 22, 2020
We received some great overall feedback from week 9 too!
211 participants tuned in this week!
100% would like to attend another Stemettes event
89% shared that their knowledge of STEM improved
93% shared that their awareness of STEM improved
89% shared their perception of STEM improved
That's all for Week 9. Next week's role model is Pooja Godhania – we can't wait to see you all for those events!