Sawda, 18, is studying Maths, Further Maths and Computer Science at A-levels and is a part of our Student to Stemette programme. This is an excerpt from her Blogspot post. She was one of five participants selected to attend this year's Grace Hopper Celebration of Women in Computing in Texas from Oct 17 to 23 2016. 
Before the event started Anne-Marie, described the Grace Hopper Event as "London Fashion Week, but the tech version", but if you are like me, someone who had a vague idea of how London Fashion Week works, the GHC is a large expo with A LOT of tech companies who are looking to recruit young females interested in tech which is great for someone like myself in uni always looking to network.  There are also various talks from women in the industry who give valuable advice based on experience, networking lunches and mock interviews along with CV advice from various companies like Deutsche Bank.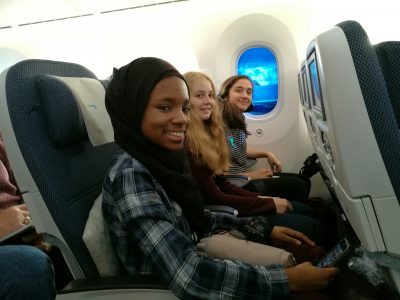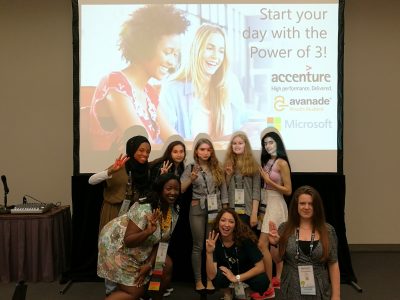 We were also invited to have dinner with Deutsche Bank, breakfast with Accenture, Microsoft and Avanade, and attended a party where Salesforce rented out an entire arcade and bar for us and their employees. If Laiba hadn't already had fun at the expo strategically gathering the multitude of freebies the companies gave out and playing giant snakes and ladders during the day -which she did- she had fun at the Salesforce party; she was like a child walking into a candy store only but only this store was more Foosball, Pacman and various other arcade games. I must admit it was pretty sweet though.
The three days ended with a closing keynote which was a presentation with speakers like the CEO of Salesforce and the CTO of the United States, a very lively atmosphere with freebies being shot from the stage – literally- followed by a "ball" which was a disco with all the attendees just having fun.
Before I knew it, we were back in the UK, back in London, back at home and uni the next day almost like nothing happened. But it did. I know that one of my biggest fears was not just going on a plane – which I've always hated – but being in America where you don't always necessarily hear the best when it comes to Muslims or black people. I sort of feared the prospect of people disliking/discriminating because of those two factors but my experience was quite the opposite. Everyone was welcoming, everyone had a mutual sense of being interested in technology which was probably the best thing about being there. Being in an environment and amidst an atmosphere of people where you have a mutual interest in something, seeing so many females from so many backgrounds still puts a smile on my face whilst I type this. One of the first things I said on the first day when I walked in was " I have to come again" because that feeling hits you as soon as you walk in.
"Wow that's so cool!", is what people say when I explain a little more.
Sawda's blog continues on her Blogspot account, here.
This experience was part of the Student to Stemette programme run in partnership with Deutsche Bank's Born to Be citizenship programme. More details about the programme are available on the Student to Stemette website. Next year's conference will be happening in Orlando, Florida, and we will be taking five more young women, selected from this year's mentoring cohorts.