We always look forward to coming to Newcastle. Possibly because of the lower temperatures; maybe because of the long distance we have to travel; definitely because of how friendly and lovely the people are. This was no different the day of our #thanksAda panel event on Thursday 15th October at the fantastic Campus North. Sponsored by Tech North (who look after tech startups across the North) we brought together a slightly more intimate panel than usual for Toon Army.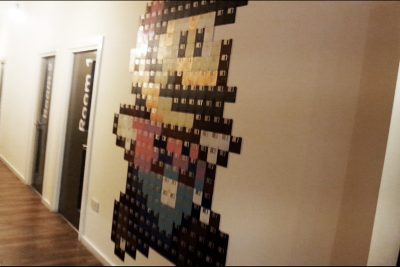 Campus North is a colourful crowdfunded space for startups and tech companies who want to be based in Newcastle. We found a Mario Floppy Disk mural on one of the walls and comic books adorning the doors of each of the toilets. Such a creative space. And they've got food covered too – they have a newly opened cafe next door called Bunker Coffee & Kitchen who do some great coffee and fantastic food – which we enjoyed at the end of our event.
Speaking of which – doors opened at 5.30pm for a 6pm start. We had a great mix of students and pupils who came along to hear from our panel of four. Lyndsey Britton (@BrittonLyndsey), co-founder of Campus North began by talking about the space, their journey and her role at Ignite 100.
Ruth Harrison (@ReLUXPartners) was first up. A project manager at Thoughtworks and proud Newcastle girl she spoke about her unique journey into tech – and the moment she realised it was an industry she had to be a part of: "I realised that Technology is not a fad, not a trend it's a revolution."
Our mystery man, Paul Lancaster (@lordlancaster) from Tech North then spoke about his background in the music industry and how that led him to advising startups and being a part of Tech North in seven major cities across the North.
Third up was Tory Thorpe (@Tory_Thorpe) who works as a technology consultant at Accenture in Newcastle, despite studying Theology at university. She spoke about how the course made her think about the ethics of technology and she then got more excited about the technology istelf. She now volunteers on nedigitalgirls europes biggest event for girls
Last and by no means least, Nicole Mitchell (@NicoleMitchX), aged 16, shared her journey and talked about her love of chemistry and experiences on our Outbox Incubator programme this Summer. The audience loved hearing from her and as we closed the panel, there had been a bit of everything – enough to inspire our audience.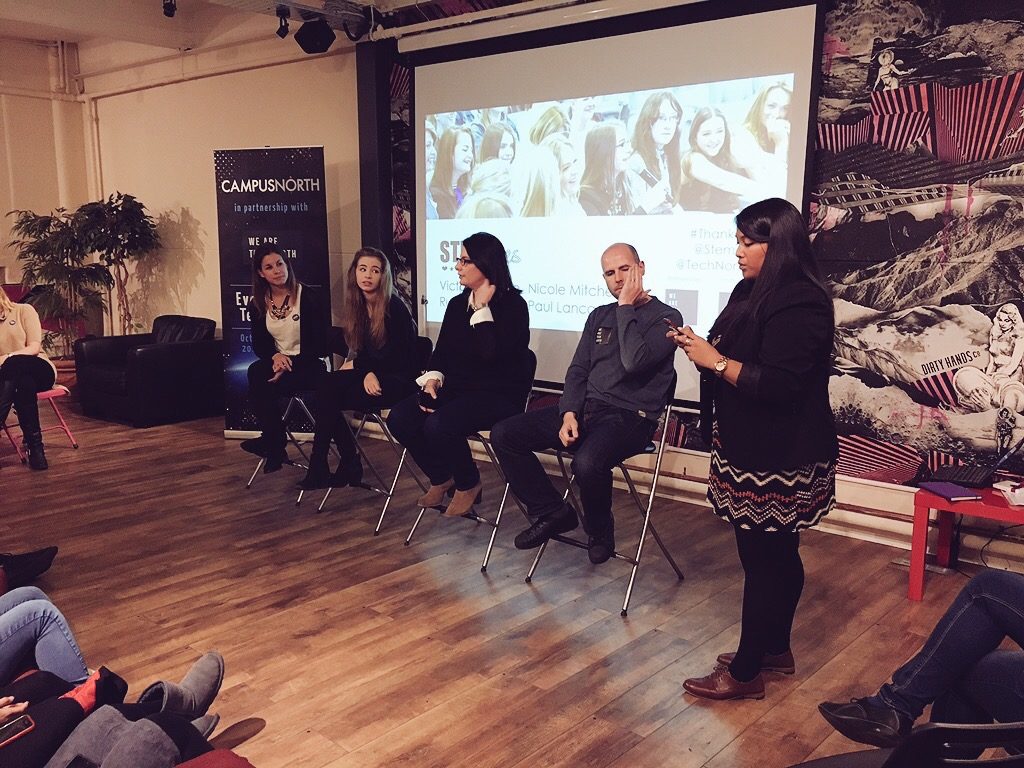 We then broke out to do our 'Get to Know' networking games, aided by the beta version of our new Stemettes app. Participants had to either answer a series of questions about the panellists or take notes on advice they'd been given and submit the top piece of advice they'd take away from the event.
We closed up with enough pizza for everyone (thanks Bunker!) and handed out prizes to our top scorers and best bits of advice:
"Just do what you want to do – It is hard for people to have a clear idea of what you want to do at university. There are lots of choices and distractions. The right way is to follow your heart, you may meet difficulties, you won't regret following your heart."
Some feedback from one of the Little Stemette's mums:
"Thank you so much for a wonderful evening. As a technophobic mother I was truly inspired by the panel especially Nicole, who is a perfect role model for young Stemettes like my girls. We can't wait for the next event and hope that my girls' school joins in with Accenture projects in the New Year."
Huge thanks to our panellists, all the parents/guardians and our attendees. Biggest thanks to our Newcastle host Campus North and sponsor Tech North. We'll be back in Toon/Newcastle in January and our next panel events are in Dublin & London on 7 November.
See you very soon!