As part of the CTRL Your Future campaign, the Institute of Coding collaborated with the DIGI-GXL team to create an event for young women to learn more about digital education and careers. DIGI-GXL founder Cat Taylor looks back at the exciting day and highlights the importance of hands-on learning to encourage more young people into the industry.
---
Together we hosted an exciting free event in London's Truman Brewery, which provided a space for 16-19-year-olds interested in pursuing a career in digital to find out more about the pathways available to them.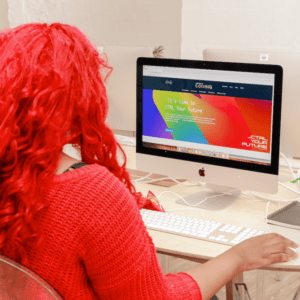 From the start, we wanted the event to stand out from other extra-curricular courses and activities that often feel either too serious or too educational. This doesn't always resonate with a younger audience looking to get into digital. For our workshops, we enlisted the help of a diverse group of individuals who had either been in the industry for just a few years or just graduated from further studies, as they really understood the audience.
Throughout the day, there was a constant flow of students and ambitious young creatives collaborating at the event. Attendees developed some amazing creations during the workshops, from a four-eyed face that breathed out emojis, to green forests appearing out of the DIGI-GXL t-shirts. For us, it was a great way to connect with young people and give them the advice and guidance we would've appreciated when we were first starting out.
Activism and design, web page building and the creation of face filters were just some of the topics covered in the workshops. Participants learnt how to combine digital and creativity through fashion and design and worked with software such as Spark AR, Unity, Vuforia and P5js code.
To finish off the day, we set up a one-hour panel talk with representatives from the fashion, tech and digital industry – Emily Chappell, Libby Heaney, Damara Ingles and Charlene Prempeh.
Panellists discussed the importance of collaborating with peers and friends, how to carve out a career in digital arts and the need for inclusive environments. They also explored the future of crossovers between creativity and tech and the increasing use of digital technology in different sectors.
The goal for the day was to inspire young people to pursue digital skills training and showcase the pioneering communities available. With so many creators such as Harriet Davey, who is conquering the world of AR creativity, Clodie Worboys, who is pushing boundaries between the physical and digital creative direction, and Rifke Sadleir, a code and content creation innovator, we hope that everyone left feeling inspired to take that leap into digital.
---
This piece was written by Cat Taylor, Founder of DIGI-GXL. You can read more about Cat here.
Cat Taylor has partnered with the Institute of Coding on their CTRL Your Future campaign to encourage a more diverse group of young people into digital careers through higher education.
For more information on how you can choose your own pathway and reboot the system, click here: instituteofcoding.org >>