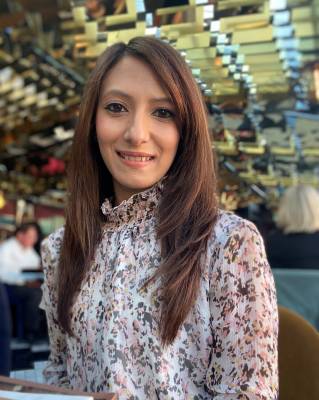 After a thirty-minute commute, my day starts with a coconut mocha in hand as I arrive at my desk at the Amazon Development Centre in London; home to Prime Video's London employees. I also tend to work from home 2 days a week, very handy for balancing up personal admin or errands.
In my role, I have responsibility for ensuring that software engineering teams that build the Prime Video application on devices found in living rooms (such as smart TVs, game consoles and set-top-boxes) can evaluate their code through tests and tooling. I manage three software teams and a fourth operations team.
It's important in my role that I know my schedule and where I am allocating time. So I first check if anything new or urgent needs my attention and play calendar Tetris if I need to. I take note of my priorities and keep ahead of important upcoming meetings days in advance.
Usually, the meetings require my leadership and guidance so I am always looking at data or feedback to lead these meetings. To prepare, I review documents, provide feedback and make notes of actions. I use mechanisms to clarify expectations and a framework to measure the inputs and outputs of each meeting. Most consist of one-to-one coaching sessions with all my direct staff to facilitate career growth and development opportunities. The roles in my team consist of:
Software Development Managers
Software and System Development Engineers
Data Centre Infrastructure
Operations Engineers
and Technical Program Managers.
As a manager of managers, it's important that I know my team's health and apply support where needed as well as exercising discretionary authority to make personnel decisions such as recommending promotions, facilitating salary changes, and approving holidays and leaves of absence.
My team work backwards to and in the direction of 3–5-year strategic initiatives so I am responsible for communicating these goals in business reviews with stakeholders and attending my team's goals reviews to help set clear, measurable, and data-driven goals which we then prioritise.
I attend our Operational Performance Reviews for Prime Video where we champion software engineering and best practices to ensure that everything built and owned by my teams are of the best quality and that we are insisting on high standards, with products that are built for scale and sustainable.
I can't forget extracurricular duties where I manage internal innovation events like hackathons each quarter and lead women affinity group and networking initiatives in my local organization's site.
No two days are the same and my team are constantly working out how to solve problems for a hyper-fragmented device space with innovative and cutting-edge solutions in sustainable and scalable ways. I love this about my team and about Amazon. There is genuine encouragement to own, learn and grow. Innovation is at the heart of what we do and we build on the greatest ideas with our customers in mind. I've been at Amazon for just over 10 years now and it's still Day 1.