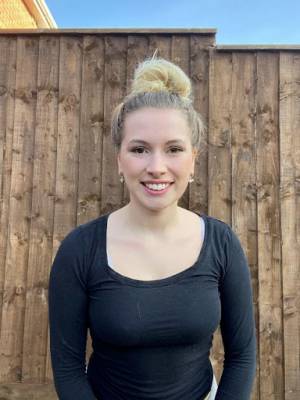 Hi, I'm Beth and I am a seed trader at ADM Agriculture.
As a farmer's daughter, I have always had a passion for Agriculture, although being on the farm doing early mornings and long days wasn't my cup of tea. However, after studying Agriculture at Riseholme College in Lincolnshire, my eyes were opened to a range of different careers within the industry. I didn't find school easy, but I loved my time at college, receiving a triple distinction star when I graduated in 2015. Shortly after, I applied for a job at ADM (formally Gleadell Agriculture) in the grain testing laboratory. Although I loved my time in the lab, I was keen to get stuck into the world of grain trading and made the move to the trading team in April 2020.
My Day to Day 
Since becoming a trader, I have loved the challenges involved with fluctuating markets. My day largely consists of closely monitoring the wheat markets, pricing up enquiries for seed and drinking lots of coffee! I have always been better with numbers than words, so this role is perfectly suited.
The role is very sociable, and when I don't have my head stuck in spreadsheets, I am on the end of the phone, offering technical advice to the team of farm traders at ADM Agriculture.
The more challenging aspect of being a seed trader is the seasonality and busy times, but I am lucky enough to work alongside an inspirational and hardworking team which helps the tricky times run smoothly.
Outside Work 
In my free time, I love decorating, and can often be found covered head to toe in paint. I find painting a great way to relax after a day at work and the results are so rewarding! I am also an active member of our local young farmers' club, which helps me to keep in touch with my friends and learn new skills.