Growing Up
Today, Hope is a geochemist, but her story begins in Minnesota. Her father was a science teacher at the local community school which inspired her love for science today.
"I  have three older brothers and we went to my father's laboratory in the evenings after school and we played in the laboratory while he graded or set things up for the next day or repaired the demonstrations. And we played with all the stuff, and he never, ever said "don't touch that," and we always wanted to take out the lasers and clap erasers in front of them. It was play but it was special play, because it was stuff that was actually for grown-ups but we were allowed to play with it. It was a wonderful, special place."
– Hope Jahren, Science Practise
Education
Hope graduated from the University of Minnesota with a degree in Geology with one of the highest grades. She then went on to study Soil Science at a PhD level at the University of California. During her PhD, she was studying the biominerals used by plants and investigated new processes to examine this.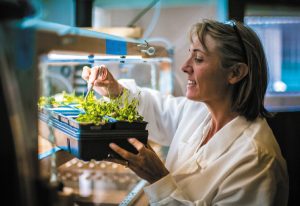 Career
She later moved on to While at Johns Hopkins University. Here she received media attention for her work with the fossil forests of Axel Heiberg Island in Canada. Her studies of the trees allowed her to estimate the environmental conditions on the island 45 million years ago. Hope and her team analysed the depletion of oxygen to determine the weather patterns there that allowed large forests to flourish about 56 million years ago during the Eocene.
"I  have a deep affection for trees. I  don't think they love me back and I don't think they know me, and all that kind of stuff, but I love oak trees because there's pretty much a species of oak that can live almost anywhere. They just seem so indestructible, and they just have so many things figured out that we don't, like how to live on the planet for 100 million years without substantially wrecking everything or wrecking themselves. I wonder if we'll be able to go 5 million more."
– Hope Jahren, Science Practise
Awards & Recognition
In 2016, Time's Magazine listed her in the top 100 most influential people in the world. In 2001, Jahren won the Donath Medal,  awarded by the Geological Society of America to a young scientist for outstanding achievements contributing to geologic knowledge, and in 2005, she was awarded the Macelwane Medal, awarded by the American Geophysical Union to five early-career scientists. Hope became the first woman and fourth scientist overall to win both the Macelwane Medal and the Donath Medal.
Follow Hope on Twitter >>
Check out Hope's book: Lab Girl >>