Frankie spent the past 10 years as a producer, but when she produced coverage of the 2015 League of Legends Worlds Quarter-Finals for the BBC, she realised she could make gaming her career.
"If there's a field you love, it is entirely possible to work within it… All you need to do is define and refine the strengths you'll bring to the yard"
Something happened to me when I was playing first-person shooter Counter-Strike recently; I stopped listening to the voices or heeding the opinions of those who don't want the best for me, and realised… I don't suck.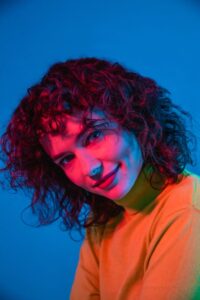 I went from being the least effective member of the team (stats-wise) to being the most. Was it an anomaly? Perhaps. So I played two more matches, the final one being even better than the first.
But all that had really changed was my mouse (wired to a wireless) and my attitude.
It might sound odd to compare a lesson learned via something so vocational as video games, to education or work but it seems to me that there are many parallels. Women in digital subjects are frequently told that the space is not for them. They fear underachievement and therefore either don't try or don't put themselves out there.
I never saw a space for myself in gaming until I had a chance encounter with esports at the BBC. That one project, centred around League of Legends made me realise that my strengths as a producer (I would become a presenter a couple of years later) had a place in the gaming industry. I didn't have to make games, I could broadcast them.
When I did eventually make the move to work at Twitch as a producer, contrary to my previous outlook, I found myself being welcomed by the industry with open arms. Quickly I met content creators, game developers and publishers. I managed to build a PC for the first time, travelled to Europe and America and began hosting on the side until that in itself became my full-time job. My skills were in demand and I learned about the industry once I was through the door.
Therefore if there's a field you love, it is entirely possible to work within it. All you need to do is define and refine the strengths you'll bring to the yard. Great at organisation and management? You could be a game producer. Maybe you're great at seeing a finished product and are easily engaged by working backwards to see how it was made – perhaps software engineering could be your way in. My top piece of advice would be to revaluate your worth don't limit yourself to thinking about what is possible for you to achieve as a career no matter what your perceptions are of the industry.
With so many educational courses out there, it's never been easier to unlock your potential by building the skills you need to work in your desired sector, even if you don't exactly know what the dream job is yet. Personally, I'd love to take a course in game development now I'm in the industry. I'd also love to follow in the footsteps of self-taught developer Brendan "PLAYERUNKNOWN" Greene and learn how to mod existing games and host them on purpose-built servers, and I'm really curious as to why in-game lighting is one of the most difficult aspects of the development process.
Given that the world practically runs on technology, digital skills are in more demand than ever. Join a course to learn the language, and you'll be future proof as well as opening up countless career opportunities. Just remember not to listen to anyone (including that inner voice of doubt) that says that there's no place for you – because I assure you there is. Now go out there and CTRL Your Future.
Frankie Ward has partnered with the Institute of Coding on their CTRL Your Future campaign to encourage a more diverse group of young people into digital careers through higher education.
For more information on how you can choose your own pathway and reboot the system, click here >>
---
This article was written by Frankie Ward, E-sports Host.