Orla works to ensure that the software driving the functions of modern vehicles can be downloaded everywhere in the world.
When it came to choosing a career, Orla couldn't decide between studying science or the arts. She considered these to be "the two ends of the spectrum". During secondary school, Orla participated in the annual BT Young Scientist competition, this is where she realised engineering was the subject she wanted to study.
"At school, I didn't know what an engineer was, and that isn't a surprise. Even now if you google an 'engineer', you get an array of men in yellow hard hats looking at plans."
After finishing secondary school, she went on to study electronics with music at the University of Glasgow, continuing her love for both the arts and sciences. She then graduated with a Masters in Engineering in 2013.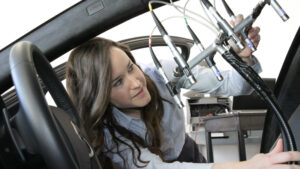 "I want to help bring the perception of an engineer into the modern era and show everyone in Ireland, not only young students, that engineers come in many forms; they work on cutting-edge technology and deliver exciting products to the world."
Having joined Jaguar Land Rover as a sponsored student in the audio team, she then returned as a graduate, bringing her specific mix of expertise in maths, physics and music to the field of acoustics.
Orla believes engineering is a malleable career choice for those who want to blend different interests and skillsets.
"Engineers are problem-solvers. They look at a problem and design and create a solution to that problem. That means engineers can work in almost any field, and there are so many types of engineers…"
In 2015, Orla was named the IET Young Woman Engineer of the Year. Then in 2016, she was recognised as one of the Royal Academy of Engineering Trust's Young Engineers of the Year. She has also been listed among the Top 50 Women in Engineering by the Women's Engineering Society.
Read more about Orla in this interview with QEPrize.org >>
Read this interview with Orla and SiliconRepublic.com >>
Last updated April 2020