What is projection mapping?
If you've ever been to a cinema, you're already familiar with projection. Essentially, projection is when light and image are shown against a flat surface. With projection mapping, the images and videos are projected onto 3D and irregular-sized shapes such as buildings, stages, or objects shaped like cars, mountains or any other shape you can think of!
Why is projection mapping used?
To tell stories. The About Us project showcased the journey of our 13.8 billion years of life in the universe, whilst the Le Petit Chef Experience uses projection mapping to tell the story of your meal!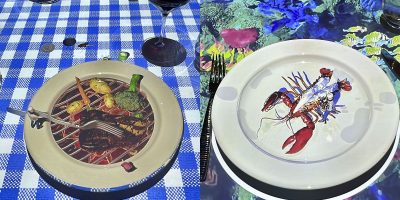 To enhance environments. For example, to utilise space, many companies have set up 360 experiences to showcase the work and life of artists. One of these examples includes the Frida Kahlo experience, which you can find more about here >>
To create art. Projection mapping allows artists to work beyond their physical space and abilities. It allows for depth and movement to be added in a way that isn't always possible with conventional tools. Watch an example here>>
Projection mapping: basics
Projection mapping can be easy to do but can be quite expensive. To give projection mapping a go yourself, you will need:
A computer
Relevant computer software such as Prspctv, HeavyM or LightForm
A projector
Light-coloured objects to project onto
Before you begin with your projection mapping project, you should mindmap your ideas and storyboard your concept. This way, it will be easier to create within your software as your idea is already fully developed.
Once the concept is created and exported as a video file, place your projector so that the beam covers the whole of your desired surface, outline your projection area and add your content!