To celebrate International Day of Women and Girls in Science, our Women in Tech (WiT) network interviewed Joanna Starkie to discuss her role within Applied Sciences, her career journey and advice for women progressing through their own careers in science.
"I've been able to work on a variety of projects including improving lateral flow tests or finding a more sustainable material for dolls' hair."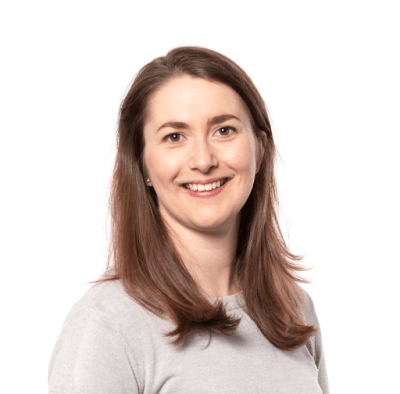 What is your role as a chemistry consultant and what could a typical day look like for you?
As a chemistry consultant, I focus on advising clients on how to solve chemistry and material science problems. For instance, when a client wants to move to use sustainable materials, my role is to understand their requirements and analyse materials to test whether they would be suitable for their needs. I find the work fascinating because I can both work in the lab and research cutting-edge technologies.
I've been able to work on a wide variety of projects including improving lateral flow tests and finding a more sustainable material for dolls' hair. What I really like about my work as a consultant is that the work is often extremely topical and varied.
What has your career journey been like so far?
I always knew I wanted to be a scientist. At university, I grew to really enjoy chemistry as I enjoyed the lab work and understanding how the smallest of molecules can have a massive impact on the materials they make up. This led to me taking on a role at a petrochemical company where I worked within the strategic research team to improve cold flow additives in diesel. My PhD in colloid chemistry at Cambridge University continued this work to further understand the mode of action of these additives. This allowed me to develop into an independent researcher able to critically assess and evaluate evidence and find innovative ways to deconstruct and tackle complex scientific problems.
I really enjoy problem-solving and bringing together knowledge from a range of sources and industries so becoming a consultant seemed like a perfect opportunity for me to apply my skills to real-world scientific problems.
How have you found being a woman in science and what advice would you give to other women in science or pursuing a career within science/tech?
Whilst I have often been the only woman on a team, in a multi-disciplinary project team I might also be the only chemist. I think what is important is the knowledge and experience that you bring, rather than your gender. I believe there is a true need to build more diverse teams. Such teams benefit from different perspectives which lead to better solutions that help build a positive human future.
So don't worry about being the only woman in the room or about speaking up, you will always be able to bring knowledge to the table!
---
This article was written by Joanna Starkie, a Chemistry consultant from PA Consulting.