DIGI-GXL founder Cat Taylor recently partnered with the Institute of Coding to create an event for young people to learn more about digital careers and education. As part of this, Cat tells us more about her first steps into the industry, what drove her to break barriers and choose digital, and the inspiration behind setting up DIGI-GXL.
---
I grew up in a small town in the Midlands and was first introduced to technology at a young age through my father's photography and my brother's PS2. I always knew I wanted to work in fashion, so I began taking every subject available at school in order to prepare myself for further studies and attended extra-curricular courses in pattern cutting.
I then decided to take Textile Design at Chelsea College of Art and Design and specialised in Print Design. However, a couple of weeks before my graduate show I completely changed direction and chose to focus on teaching myself 3D fashion software.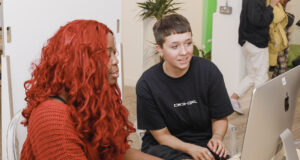 At the time, I wasn't feeling very inspired by anything. I was Googling randomly one day when I came across software, I could use for fashion design, and I decided that a digital approach would help set me apart. There are many pathways into digital careers, so I took the leap and taught myself as much as I could before I had to present my graduate collection. I spent hours on YouTube discovering how to use the software required to create 3D digital clothing.
I have been a freelance 3D fashion designer and director for a few years now, working for companies and brands like Balenciaga, Highsnobiety, Nike and Selfridges. I also created DIGI-GXL this year, a pioneering community paving the way for a more diverse design industry, and we are now 200 members strong.
My advice to anyone interested in a career in digital would be to experiment as much as you can during your studies. Don't be afraid to try out a course that doesn't necessarily fit with what you do. Gaining a wide range of knowledge means that you can bring it all together and fuse it into something new and unique.
---
Cat Taylor has partnered with the Institute of Coding on their CTRL Your Future campaign to encourage a more diverse group of young people into digital careers via higher education.
For more information on how you can join the digital sector, click here: instituteofcoding.org
Last updated December 2019