Marta Di Nozzi moved from Italy to London early in 2018 to study on the Advanced Diploma in Music Production and Sound Engineering course at Abbey Road Institute. Since graduating she's been working as a technician as well as juggling various freelance production and engineering work. Her longer-term ambition is to secure work in a studio environment. Find out about her experience in music tech and what advice she gives to aspiring female producers and engineers.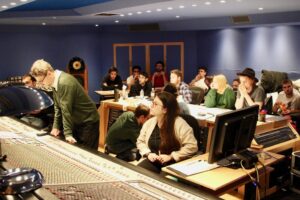 How did you get into music production – how did you realise you wanted to go down this route and what did you do to start this journey?
I got into music production mainly because I wanted to produce my own music. I was already playing the guitar and composing and I wanted to understand how to get from songwriting to a fully produced song.
I became interested in it and I applied for a Sound Engineering and music production BA course, I started from the basics and while I was learning more I was practising more and my skills improved. I built my first home studio all by myself, I bought some gear and I kept producing and mixing music.
Studying sound engineering, working as record producer/mixer and many music projects later, it has become quite clear that a part of my journey was to help other artists and songwriters to produce their own music as well. It was a long and hard road where I had to build confidence in myself and my technical skills every single day. So far but I am enjoying it very much.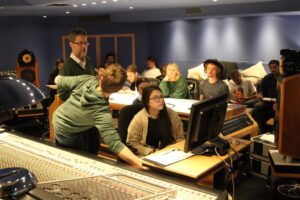 What are 5 things people don't know about music tech?
Not all producers and sound engineers are men.
Your journey is way more important than your outcome. If you win a prize, it does not necessarily mean that you are the best in doing something, if you don't win a prize it doesn't mean you are not worth something.
In a music industry populated of people that are "faking it", your knowledge makes the difference, STUDY STUDY and STUDY more, if you have the knowledge you don't need to get lucky you can leave luck to others that might "need" it.
Most of the time mixing a song is an extremely creative job. The technical side is important but creativity is fundamental.
You don't need to know how to personally play every instrument on earth to produce a song but it definitely makes a difference if you know how those instruments work and you train your ears towards getting the sound that you need out of them.
Yes, we know what all those knobs and buttons do.
---
This article has been written by Marta Di Nozzi, Sound Engineer. She studied at the Abbey Road Institute, more details here >>
You can also listen to Head Stemette's podcast interview with Isabel Garvey, the Managing Director of Abbey Road Studios & Abbey Road Red – it's part of Women Tech Charge >>