Throughout my career, I've focused on broadening access to and persistence in STEM careers. In addition to co-hosting Dope Labs, I manage a large interdisciplinary PhD program in the biological sciences, and I teach a graduate course on how to teach science. 
I graduated with my PhD in Genetics & Genomics from Duke University, and I completed a teaching postdoc at a small liberal arts college. I became an assistant professor of biology, teaching Cell Biology, Microbiology, & Intro to Bio. My lab studied biofilm development & microbial interactions.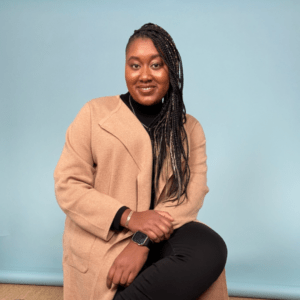 When did you first fall in love with science?
When I look back, I probably started gravitating towards science in late middle school to high school. I didn't know I would end up in science, I liked it just as much as anything else. My earliest exposure to scientific research and experiments was through STEM programs at a nearby HBCU, North Carolina A&T State University. This influenced the classes I took in high school and eventually, college!
What is your career highlight so far?
 Dope Labs captures so many of my passions – science education, communication, research and outreach. I feel incredibly fortunate to create this show with my friend!! Listen to the Dope Labs podcast on Spotify here >>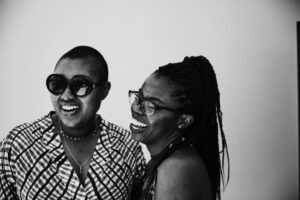 What is your favourite topic you have discussed on your podcast so far? And why?
In addition to my love for molecular biology, I'm nurturing a budding interest in human behaviour. Our recent episode on burnout (Lab 32: Life Avalanche) with Anne Helen Petersen was an eye-opener for me. She shared various scenarios and factors that contribute to the burnout we see in society. Then she added the layer of the pandemic on top, as we collectively navigate how to cope through such uncertainty. It shed a light on so many emotions and thoughts I was passing through on auto-pilot.
Who are your role models/were your role models growing up?
My role models now are my friends. I am lucky to have a front seat view as my close friends build amazing careers, nurture their personal relationships and families, and freely share the lessons they have learned along the way. If I am struggling to figure out the next step, I almost always have someone in my close group of friends (or 1-2 degrees removed) who has experience and is willing to give some advice.
What actions can we all take to help to change the stereotype of what a scientist looks like?
Science and the scientific method are all around us. Just because someone isn't wearing a lab coat or mixing solutions, it doesn't mean they're not a scientist. I think we should expand our ideas of what science is, encouraging scientific thinking in many contexts!
Your favourite food and why?
My favourite food is constantly changing. The winner for the past 4 or 5 months has been ramen. How can you beat a perfectly balanced broth with noodles, pork belly, & all the flavourful toppings? It's gotta have a marinated egg!
---
Thank you Dr Whatley from Dope Labs for answering all our questions.
You can find out more about Zakiya here
Listen to the Dope Labs podcast on Spotify here >>