Imagine a pair of shoes that do not require you to "break them in". A pair of shoes that do not give you blisters or bruises. Shoes that are perfectly tailored to your body. Meet Lucy Beard, founder and CEO of "Feetz", who took the traditional methods of shoemaking and took a different, more modern angle look on it and amalgamated it with 3D printing.  
Lucy Beard was previously a mathematician and worked at a social game developer Zynga, when a spark of inspiration hit her forcing her to take the leap to create a new company.  
The idea first developed when she was trying on ten different sizes of shoes and none of them fit her. She later stepped into Starbucks where she found her coffee was more customisable than her shoes. Despite not having a 3D printer or fashion background, Beard took her desire for customer satisfaction to drive her forward.  
Listen to the 3D Printing Podcast with Lucy Beard all about Feetz and 3D printing >>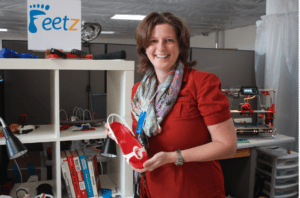 What sets Feetz apart is that it doesn't just take into consideration the size of the user's feet but the shape, weight and height. The data is then fed into Feetz's back end which is powered by the Autodesk platform in order to choose the right material for the shoes. Each design generates between 2-3m bespoke lines of code which is then fed into the 3D printers to create the finished product. The user would then receive this ideal shoe in the next 7-days.  
However, Lucy Beard's great invention did not go unnoticed when in 2015 fast company announced her to be the newest addition to the "Most Creative People in Business 1000". This was a big achievement where she will continue to be a major part of their stories, newsletters and events. Later in 2017, Lucy Beard partnered with a two-time winner of Project Runway, Seth Aaron in creating designer 3D printer shoes. Read more about this collection here >>
---
This article was written by Stemette, Florrie.
Last updated December 2019.