Tessa is a Neurocognitive Development Scientist.
Tessa Dekker began her science career studying Psychology and Medical Biology at the University of Amsterdam. After completing her PhD at the Centre for Brain and Cognitive Development at Birkbeck, University of London, she became a Research Fellow at the UCL Division of Language and Psychology.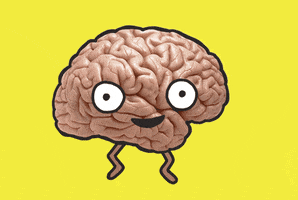 She heads the Child Vision Lab which researches the development of vision and vision for action in normal and atypical development in children and is a scan operator at the Birkbeck-UCL Centre for Neuroimaging.
Dr Tessa Dekker researches the development of vision in children. She is also a scan operator at the Birkbeck-UCL Centre for Neuroimaging (BUCNI). Scientists go to BUCNI when they want to use state-of-the-art magnetic imaging facilities for their research.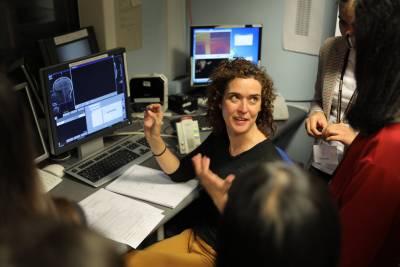 One tool Dr Dekker uses to study the way children see is an MRI scanner. An MRI scanner is a magnet that looks like a big doughnut. People who are being scanned go inside the doughnut but they don't go very far—just up to the hips. In the scanner, there is a coil running a current generating a really strong magnetic field that's 30.000 times stronger than the Earth's! You can't take any metal in the room because it will start flying around. To be able to get such a magnetic field the equipment inside the doughnut must be kept super cold, so it can get a bit chilly in the room with the scanner.
There are also other coils in the scanner called gradient coils that add other magnetic fields. They help identify where the signal comes from in the brain. Everyone who goes inside the scanner wears a helmet that uses radio waves to send out and pick up MRI signals. Unlike x-ray radiation, these waves do not cause any damage to the person, making the MRI an excellent tool for doing brain research with children. MRI signals come from protons in the body. The protons' + and – sides will align with a magnetic field. When the helmet sends out radio waves, this alignment changes. When the protons then fall back into alignment, this creates a signal that scientists' tools can pick up. Because different tissues have different concentrations of protons, these signals can be used to visualise different areas of the brain.
"One thing that's nice about doing a science degree and research is you get to do things you are really interested in. You get to come up with a research question and do experiments to try to answer your question. It's a creative job. You pick up so many skills along the way that you can use in any job. I learned how to program and do statistics and take brain pictures."
– Dr Dekker
A massive thank you to The Rosalind Franklin STEM Ambassadors for sharing this article with us.