When we were pulling together a Zine Issue around the theme of 'Motivation', we knew we had to feature Yewande Akinola and her amazing career and passion for engineering. Yewande Akinola MBE is a Chartered Engineer who specialises in sustainable water supplies.
Growing Up
Yewande Akinola was born in Nigeria. As a child she was always interested in buildings and bridges, she just didn't realise her passion was in engineering yet. Whilst growing up, she went through a number of phases, some involving creative careers, others focusing on her technical abilities.
It was only after her mum suggested engineering would allow her to continue being creative whilst also supporting communities of people, that she seriously thought about engineering as a career for herself.
"I've learnt to embrace being a woman in engineering… This is where I see my purpose"
– Yewande
Yewande went on to study Engineering Design and Appropriate Technology at the University of Warwick; she graduated in 2007. During her degree she was a mechanical engineer for Thames Water, where she worked on clean water treatment sites.
Engineering Career
Yewande's engineering experience spans over 15 years. In 2007, after graduating from the University of Warwick, she was employed by Arup Group as a Design Engineer designing water supplies and water management systems. Whilst working for Arup, she earned a master's degree from Cranfield University in 2011. Her expertise includes Design and Construction, Innovation and the Manufacturing of buildings and systems in the built environment.
"My engineering journey continues to be one centered around creativity and creating a better world. The creativity, the daring to dream, the art of story –telling' of conceptual ideas…"
– Yewande
Her main interests in her engineering projects are in developing water and sanitation for underdeveloped countries. She has worked on projects in the UK, Africa, Middle East and East Asia.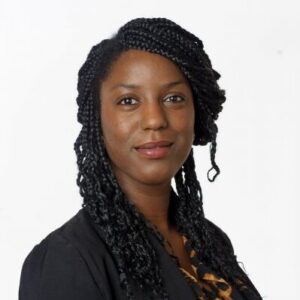 Diversity In STEM
Akinola is a prominent voice in the movement to increase diversity within engineering. 
2013: She worked with Girl Guiding UK to encourage more young women into engineering. 
2014: She was featured on the QEPrize campaign "Create The Future". 
2016: She delivered a keynote talk at the Ada Lovelace day celebration.
2017: She featured in the Institution of Engineering and Technology campaign "Portrait of an Engineer".
Awards & Recognition
Yewande has been named one of the UK's top 35 women under the age of 35 by Management Today and was awarded PRECIOUS AWARDS Outstanding Woman in STEM award. In 2019, she was named one of the UK + Europe TOP Influential women in Engineering by Financial Times and Inclusive Boards. She was awarded an MBE in the Queen's 2020 New Year Honour's list for services to Engineering Innovation and Diversity in STEM.
She has also presented television programs for Discovery Channel, Channel 4, Yesterday TV and CBBC.
Find out more about Yewande on her website here >>
Last updated May 2021.