Our digital world needs a new generation to defend it. Enter CyberFirst: a programme dedicated to helping young people explore their passion for technology through the world of cybersecurity. Whether you're a school-leaver or university student, the degree apprenticeship and university bursary offer the chance to kick-start your career. Want to know more? Meet Isabelle and Aliya.
"Everyone starts from scratch and they teach you from the bottom up – so, you don't need to code to begin." – Isabelle, CyberFirst Degree Apprentice.
While studying for her A-levels, Isabelle wasn't sure what her next step looked like. So, she began exploring opportunities and came across the CyberFirst degree apprenticeship. Here, she'd get hands-on experience, a proper salary, as well as an accredited degree.
"I didn't have loads of knowledge, but that didn't matter when I joined the CyberFirst degree apprenticeship. The programme is designed to assume that you don't have any base knowledge. The focus is for students to bring a willingness to learn, rather than lots of prior experience. Actually, many of my peers had never studied computer science before, so when they say your passion for tech is more important than your background, they really mean it." – Isabelle.
"The CyberFirst university bursary opens a lot of doors – I've learnt so much and have even secured my graduate career." – Aliya, University Bursary Student.
Aliya was all set to study medicine, but on the day her course began, she took a risk and transitioned to computer science. Then, by chance, she stumbled upon the CyberFirst university bursary and she was hooked.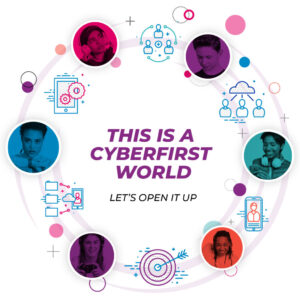 "I'd always been interested in coding, but I didn't even have a GCSE in IT, so I really took a chance when I asked to change my degree. I wasn't going to let my lack of experience hold me back, so when I found the CyberFirst bursary, I let my enthusiasm for technology shine through my application. And I was thrilled to be accepted! On the programme, I've worked alongside industry experts and taken on summer placements with world-renowned brands. And, of course, the £4k-a-year bursary helped a lot. I've learnt a lot as a bursary student, but overall, my experience taught me that it isn't all about coding – there's a lot that non-STEM students can bring to the table." – Aliya.
Ready to start your cyber security career? Learn more about opportunities with CyberFirst here >>