On May 21st 1932, Amelia became the first woman to make a solo trans-Atlantic flight.
Amelia Earhart was an American aviator who set many flying records and became an advocate for women in aviation. She became the first woman to fly solo across the Atlantic Ocean, and the first person ever to fly solo from Hawaii to the U.S. mainland.
After graduating from high school, Amelia wasn't sure what she wanted to do. She first went to a school in Pennsylvania but dropped out to become a nurse's aide tending wounded soldiers from World War I. Then she studied to become a mechanic but soon was back in school studying for a career in medicine. Eventually, she decided to go into medical research. That is until she took her first plane flight.
Read more about aviation on the Stemettes Zine >>
Amelia worked very hard and with some help from her mother she was able to pay for flying lessons. Eventually, she purchased her own bright yellow plane, which she nicknamed the "Canary". She also got her pilot's license and set a new altitude record for female pilots of 14,000 feet.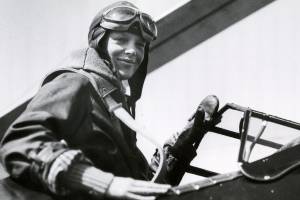 In 1928, Amelia Earhart was invited to take part in a historic flight across the Atlantic. With pilot Bill Stultz and co-pilot Slim Gordon, Amelia flew across the Atlantic Ocean in an aeroplane called Friendship. Amelia was the navigator on the flight. On June 18 1928, after 21-hours of flying, the plane landed in Wales. She was the first woman to make the flight across the Atlantic.
During a flight to circumnavigate the globe, Earhart disappeared somewhere over the Pacific in July 1937. Her plane wreckage was never found, and she was officially declared lost at sea. Despite all the searches, her disappearance remains one of the greatest unsolved mysteries of the twentieth century.