Meeting the UK Prime Minister. Witnessing first-hand how planes of the future are being developed. Promoting STEM opportunities at national events alongside business leaders and leaders of the armed forces. For Khadijah, choosing an aerospace degree apprenticeship with BAE Systems after completing her A-levels has led to all kinds of unforgettable experiences.
Ever since she was young, Khadijah had watched aeroplanes with fascination from her window. As she completed her A-levels in maths, physics, and electronics, the question for Khadijah was how best to achieve her dream of being part of that world.
 "I just thought with an apprenticeship you kind of get the best of both worlds. You get the experience, you get the engineering workplace environment, and you also get having the responsibility, being accountable for stuff. I just thought yes, this is what I want to do."
The answer for her was a five-year degree apprenticeship in aerospace engineering with world-leading aircraft developer, BAE Systems. Why? Their award-winning apprenticeship programme would allow her to gain a fully accredited Bachelor of Engineering degree from nearby Lancaster University whilst earning a salary and seeing game-changing aerospace innovation in action.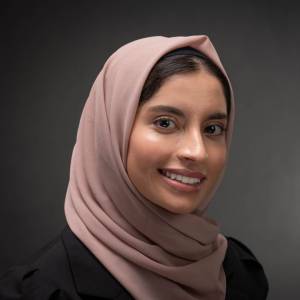 Being embedded among expert teams at BAE Systems has seen her progress far in her four years on the apprenticeship. She's gained invaluable practical experience by getting involved with emerging technologies and complex challenges in everything from virtual reality to aircraft systems. One placement saw her help design, build and fly a ground-breaking new solar electric communications drone with the potential to stay in the air for up to a year at a time.
With a community of around 2,000 apprentices in learning at BAE Systems at any time, there are constant opportunities to connect with peers. Apprentices can even go one step further and represent both each other and the larger organisation on apprentice councils and in outreach programmes. Khadijah has taken part in outreach as part of her apprenticeship, speaking in front of 400 people at the renowned Institute of Engineering and Technology. She presented alongside STEM leaders that included members of the Ministry of Defence, and even received a commendation from them afterwards.
"In my eyes, the benefits of an apprenticeship are a lot more subtle – things that you don't see happening to you. [It's] having the confidence to deliver technical presentations, confidence to talk to senior engineers about things you think you know what you're talking about, and the kind of confidence to say, 'Oh, I don't know, please can you explain?'"
Khadijah's degree apprenticeship in aerospace engineering has meant getting the best of both worlds. From bringing real world situations to her academic work to seeing the theories she reads about brought to life in the workshop, her time with BAE Systems is bringing to life the full picture of engineering.
What is she looking forward to in the future? Khadijah's currently working towards qualifying for her first professional engineering qualification. The next steps after that will be taking those skills and using them to demonstrate creativity and new ideas on innovative new BAE Systems projects that'll help establish her as a chartered engineer.
If you're looking to grow a career with confidence in a STEM field, BAE Systems have award-winning apprenticeships schemes available in engineering, software, project management and many more. Discover our early career opportunities here.