Born on 10th of May 1958 in Los Angeles, California. When going to study in University, she studied Electrical Engineering at Standford University which she later earned a master's degree in 1981 and a doctorate in 1985. She joined NASA in 1988 as a Research Engineer at Ames Research Center and later was selected to be part of the astronaut program in the Johnson Space Center in 1990.  
In 1993 she was part of the space mission specialist aboard the STS- 56 mission of the space shuttle discovery. This made her the first Hispanic female astronaut to be launched into space. During her first mission, she and her team were conducting research on the sun and its interaction with the Earth's atmosphere. The team also released the Spartan satellite which studied the solar wind. She logged nearly 1,000 hours in orbit over the span of 4 space missions.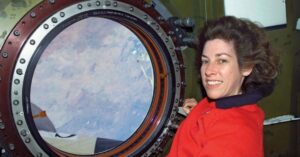 In 2007 she became deputy director of the Johnson Space Center and six years later she was promoted to Director of the Center. She was the second woman to have hold that position and also making her the first Hispanic director at NASA.  
She retired in 2018 and is currently the vice-chair of the National Science board.  
"I tell students that the opportunities I had were a result of having a good educational background. Education is what allows you to stand out." 
To find out more from Ellen Ochoa visit NASA's website here.
Also, you can find more about her in this Ted Talk she gave here.
---
This piece was written by Stemette, Leslie Sarango Romero.