Florence Adepoju combined her love for Chemistry and makeup by becoming a cosmetic scientist. She is the founder of MDMFlow, a make-up company she started.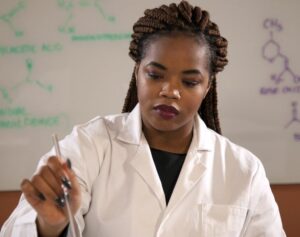 Florence first planned to study pharmacy at university, as she didn't know Cosmetic Science existed yet. She ended up working on a beauty counter at 16 and immediately fell in love with the industry and set out to study the most scientific role available.
Florence studied Cosmetic Science at the London College of Fashion which allowed her to combine her passion for makeup and her love for science. Here she learned the chemical structures needed for cosmetic products. She also learned all about marketing and packaging products.
If you are interested in learning more about Cosmetic Science, check out The Society of Cosmetic Scientists.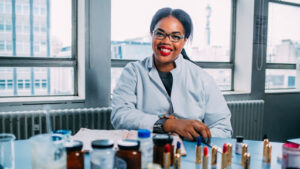 It was during her time on a beauty counter, Florence realised most of the major makeup brands weren't providing products for all skin types and weren't making the most of the new technologies available. She wanted to change this. So after graduating, she launched her own makeup brand, MDM Flow aged 22.
Florence aims to grow her brand to be a household name. She is already selling her lipsticks in high street stores in the UK.
Continue reading more about Florence in this interview with LCF >>
---
This article was written by Stemette Society Member, Orlane.
Last updated April 2020