Mae Jemison is an American engineer, physician, and former NASA astronaut. She became the first black woman to travel in space when she served as a mission specialist aboard the Space Shuttle Endeavour. She orbited the Earth for nearly eight days on September 12–20, 1992.
Jemison knew from a young age that she wanted to study science and someday go into space. The television show Star Trek, and in particular African-American actress Nichelle Nichols' portrayal of Lieutenant Uhura further stoked her interest in space.
Jemison entered Stanford University at the age of 16. Jemison said that it was difficult to go to Stanford at 16 but that her youthful arrogance may have helped her. She graduated from Stanford in 1977, receiving a B.S. degree in chemical engineering and B.A. degree in African and African-American studies. While at Stanford, she also pursued studies related to her childhood interest in space and first considered applying to NASA.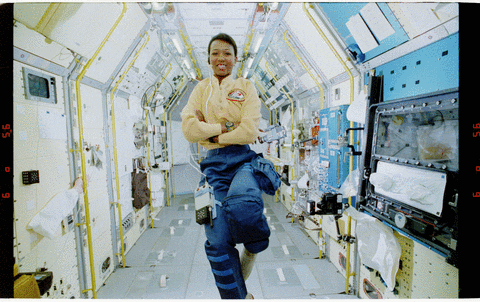 Did you know one awesome woman can be an engineer, a scientist, a doctor and an astronaut? And she is so much more too. 
Mae Jemison was born in 1956 and grew up in Chicago. She was fascinated by all things science and did well at school. She went to Stanford University where she earned two degrees; one in Chemical Engineering and another in Africa and African-American studies. She then went to Cornell University to study medicine, becoming a GP. 
Mae went on to spend several years working for the Peace Corps, working in West Africa. As well as her first language English, she learned how to speak Russian, Japanese and Swahili.  
When Mae returned to the United States she decided to follow her childhood dream of becoming an astronaut. Inspired by Sally Ride, the first American woman in space, she applied to NASA's astronaut program. Out of 2000 applicants, Mae was selected into the top 15 people for one year of astronaut training. In 1992, Mae became the first female African American in space. On the space shuttle Endeavour, with 6 other astronauts, Mae orbited the earth 126 times. Her job on the shuttle was to be a co-investigator of bone cell research experiments. 
On returning to Earth, Mae resigned from NASA. She went on to teach at Dartmouth College and set up her own company Jemison Group. She wanted to encourage a love for science in students and bring advanced technology around the world. 
Mae is now an active public speaker. She promotes science, technology and giving inspirational messages to young people. Such as: 
"Never be limited by other people's limited imaginations…If you adopt their attitudes, then the possibility won't exist because you'll have already shut it out … You can hear other people's wisdom, but you've got to reevaluate the world for yourself."

–  Annual Biomedical Research Conference
Mae also appeared on TV several times, including in an episode of Star Trek in 1993. 
Follow Mae on…
Twitter, Facebook and Instagram