Growing Up
Sunita was born in Ohio in 1965. When she was younger she wanted to be a veterinarian, inspired by a love of animals and nature. Growing up, she was always surrounded by sketches of the brain due to her parents being a neuroscientist and an X-Ray technician. She attended Needham High School graduating in 1983 and following a recommendation from her brother joined the US Naval Academy, wanting to continue her active lifestyle.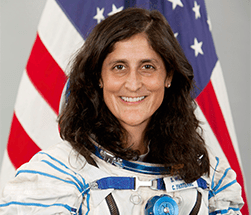 Sunita's Flying Career
In 1983 Sunita entered the U.S. Naval Academy in Maryland. She was made a Junior Officer in 1987 and reported for aviator training. In July 1989 she began combat helicopter training and by 1993 she became a naval test pilot and flying more than 30 different aircraft and logging more than 2,770 flight hours.
On December 9, 2006, Williams was a flight engineer aboard the space shuttle Discovery on the STS-116 mission to the ISS for Expeditions 14 and 15.  Onboard this flight, Sunita participated in the Boston Marathon on the station's treadmill. Williams landed at Edwards Air Force Base in California with the crew of STS-117 on June 22, 2007.
Watch Sunita give a tour of the International Space Station…
In 2015, Sunita was one of four astronauts to make the first test flight in NASA's Commercial Crew program. In August 2018, she was assigned to the first flight to take astronauts and supplies to the International Space Station on board the Boeing CST-100 Starliner.
Sunita's Legacy
Sunita was the second American astronaut of Indian heritage to go into space, after Kalpana Chawla, who died in the Columbia disaster. Sunita has since inspired many other young women to follow in her footsteps
During her stay at the space station, she made four spacewalks, totalling more than 29 hours outside the spacecraft, and spent a total of more than 195 days in space, both of which were records for women in space.