Maggie Aderin-Pocock is a leading space scientist and a presenter of the BBC's 'The Sky at Night'.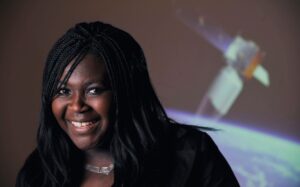 She completed a PhD in Mechanical Engineering in 1994, after an undergraduate in Physics at Imperial College London. She is also the Managing Director of Science Innovation Ltd, where she inspires school-aged children about the wonders of space. Maggie worked for the Ministry of Defence on projects such as missile warning systems.
Maggie Aderin-Pocock was born in London in the late sixties. During her childhood, she moved between 13 different schools, struggling to show her potential in the face of dyslexia. She started to hate school, but then she got inspired by science. Maggie started to become passionate about it and started to read more about science. Her marks were soaring.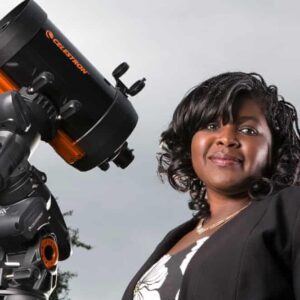 Yet, Maggie's father wanted her to study medicine, but she was more interested in physics. She describes physics as 'the study of everything'. She realised that her talent was in hands-on physics. Maggie Aderin-Pocock took a telescope-making class as a teenager which may have been the light-bulb moment that caused her to specialise in optics in the last year of undergraduate studies.
Watch this video on YouTube about her inspiring work…
She has many awards, such as an MBE for services to science education. She is recognised for her enthusiasm and outgoing approach to science.
Maggie has taken it upon herself to reach out to young people to discuss the importance of scientific research. She has talked to more than 100,000 children and is breaking the scientific stereotype. She is a role model to many people and has inspired people of all ages with her advice.
Maggie Aderin-Pocock is an example to us all. She shows that you don't need to be the brightest in class to achieve your dreams; you need to believe you can do anything.
---
This article was written by Stemette, Yachna Dhir.
Last updated July 2020