Sheila Scott OBE was an English aviator pioneer who broke over 100 aviation records. Sheila broke light-aircraft records through her long-distance flight endeavours, which included a 34,000-mile "world and a half" flight in 1971. On this flight, she became the first person to fly over the North Pole in a small aircraft.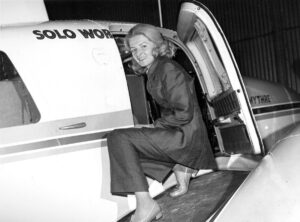 Sheila's original name was Sheila Hopkins, she was born and raised in Worcester. She went to a Worcester boarding school and went on to become a nurse during World War 2. In 1943, she started a career as an actress and named herself Sheila Scott.
In 1958 she learned to fly and got her license by 1960. Her first solo round the world flight began at London Heathrow on 18 May 1966 and returned on 20 June 1966, having covered 31,000 miles on 189 flying hours in 34 days.
In 1969–70 she flew solo around the world in the same aircraft a second time. This aircraft was severely damaged in 1979 (after she sold it in 1971) and the remains are on display in the collection of the National Museum of Flight, East Fortune, East Lothian, Scotland. Watch Sheila depart for Nairobi below…
In 1971 she bought a twin-engined Piper Aztec 250 G-AYTO named Mythre in which she completed her third solo round the world flight in the same year. This aircraft was destroyed in a flood at the Piper factory in Lock Haven in 1972.
"People often say to me, 'Oh, you must have been so alone flying hundreds of thousands of miles, often in appalling weather conditions,' but when you're in the sky you don't think of things like that,"
–Sheila Scott, Sunday Times
She was the founder, and the first governor, of the British branch of the Ninety-Nines, an association for licensed women pilots, which had been created by Amelia Earhart. She was a member of the International Association of Licensed Women Pilots, and of the Whirly-Girls, an association of women helicopter pilots.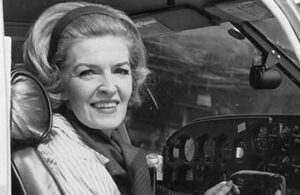 She was appointed an Officer of the Order of the British Empire (OBE) in 1968.  In 1967, she set 23 world records in just one year, winning the Harmon International Aviation Trophy for setting a new light-aircraft speed record of 28,633 miles solo in 33 days and 3 minutes. She received the Brabazon of Tara Award in 1965, 1967, 1968. She received the Britannia Trophy in 1968, this is presented to or aviators accomplishing the most commendable performance in aviation and the Royal Aero Club Gold Medal for 1971 for outstanding achievements in aviation.
Last updated May 2020