Growing Up
At 13, Astronaut Abby began publicly speaking about her dreams of becoming the first astronaut on Mars. Whilst at university, she founded a non-profit called The Mars Generation. The purpose is to build excitement around STEM careers and space exploration. Recently, she finished her undergraduate degree in astrobiology and Russian at Wellesley College.
Career
Abby has worked in various places including a summer at the Schuerger Lab. This is at the Space Life Sciences Lab at NASA's Kennedy Space Center in Florida. At the Schuerger Lab, she studied bacteria that could live under extreme conditions. Through these bacteria, scientists hope they figure out how to avoid contaminating Mars. Bacteria might also be the key to finding life outside of Earth.
Future Plans
Currently, Abbey plans to travel to China and Russia to practise the languages. She believes it will be important for her future space adventure. In the future, Abby hopes to pursue a PhD in astrobiology or planetary geophysics. Her goal is to reach Mars through scientific research into life outside of Earth.
Read more about space on the Stemettes Zine >>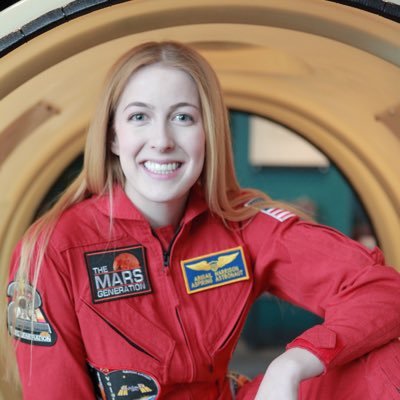 Astronaut Dr Mae Jemison made a deep impression on Abby when the two met in September of this year. They met at the launch of the "Defying Gravity: Microsoft HoloLens Women in Space" exhibit at the Intrepid Sea, Air & Space Museum in New York. Harrison watched Jemison, the first Black woman astronaut, talking about the history of female space travellers.
"Meeting her was this incredibly inspiring experience… Dr Jemison is this incredible woman who has a lot of passion and knowledge,"
Advice For Future Stemettes
Along her journey, Abby learnt that messing up is part of the process in STEM. At 16, she failed a Chemistry exam and was ready to give up. With her mum's encouragement, she retook the class the following term and gained an A.
"For women, it's especially hard. We get told that messing up is the worst thing that could happen and that [it] means we haven't succeeded … but you have to fail," Harrison said. "It allows you to grow."
Having dreamed of reaching Mars since she was 5, Astronaut Abby said her enthusiasm for space exploration is more nuanced now. Astronaut Abby said she appreciates that space exploration is fundamental to human nature. She believes it can also produce new scientific by-products in space engineering and other fields. "Dipping our toes in the solar system," she said, can inspire an entire generation to learn more about the world.
If you feel inspired, check out The Mars Generation and watch Astronauts do you have what it takes?
Last updated March 2022