After A-levels, Sophie studied Mathematics at the University of Nottingham. Whilst there, she had the fortune of meeting Dr Helen Sharman, the first Briton in space. As an aspiring astronaut herself, Dr Sharman advised Sophie to consider engineering as a career. With this in mind, she focused on Applied Mathematics, to help her achieve her dream. She even did a summer internship in Software Engineering at BAE Systems.
In her role, Sophie performs aerodynamic and performance analyses on future combat jets. Her achievements include winning the BAE Systems Technical Graduate of the Year. In 2017, she won the BAE Systems Bee Beamont award. This award recognised her as an amazing newly qualified Engineer. The same year, she was also in the Telegraph's Top 50 Women in Engineering list.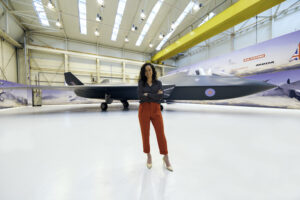 "It feels very surreal – I didn't think I would! The shortlist was phenomenal and I was completely overwhelmed when I heard my name as the winner. It's a really proud moment for me. It's vital we inspire the next generation of engineers. Especially women, and one way of doing this is highlighting current talent in the industry."
After graduating, Sophie joined BAE Systems full time on their Graduate Scheme. This scheme is comprised of four engineering placements across various aircraft platforms and products. It also included the Eurofighter Typhoon. After her final placement, she worked in Reaction Engines, on the Skylon spaceplane. This has led her to her current position on the Concepts & Technology team.
Follow Sophie on Twitter and on LinkedIn.
Check out her interview with This is Engineering.