From Project Mercury To The Mercury 13
Project Mercury was the USA's first human spaceflight programme. 7 men were chosen to be a part of America's first human spaceflight programme, which left some scientists asking 'could women be astronauts too?'
Dr William Randolph Lovelace was one of those scientists. Dr Lovelace was a NASA physician who developed the physical and psychological tests used for the male astronauts on NASA's Mercury Project. Lovelace was curious to see if women could pass the same tests. So he selected 25 women to go through a program at his Lovelace Medical Center. Of the 25 women tested, 13 passed.
The Mercury 13 program was not officially run by NASA, but by Dr Lovelace himself.
There were X-rays, vision tests and tests designed to induce motion sickness. All 13 underwent psychological profiling, had tubes passed down their throat to measure gastric juices. They even had electrodes put into their muscles to test how they would spasm. Wally Funk recalls being put in a sensory deprivation tank to test her mental resilience. She lasted in there 10 hours and 35 minutes!
The Mercury 13 did just as well, if not even better on these tests than their male counterparts chosen to go to space by NASA.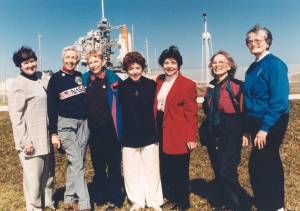 The Mercury 13 were due to go for further testing at a military facility in Florida, but the program was shut down before they got the chance as there was no government programme for women in space so they weren't allowed to use the military facilities to continue training. The Mercury 13 women were not part of NASA's astronaut program, never flew in space as part of a NASA mission, and never met as a whole group.
Legacy
In the 1960s some of the Mercury 13 were among those who lobbied the White House and Congress to have women included in the astronaut program. They testified before a congressional committee in 1962.
Meet The Mercury 13
Myrtle Cagle
At the age of 12, she learned to fly under the tutelage of her brother. She received her wings at the age of 14, becoming the youngest pilot in the state and possibly the nation at the time. Over the years, Myrtle Cagle has logged more than 10,000 hours teaching hundreds of people how to fly.
Jerrie Cobb
Jerrie passed her private pilot's test at age 16, her commercial pilot's license at age 18 and received her flight and ground instructor certificates at age 19. At age 28, she was chosen as the first woman to enter into astronaut testing. She aced the tests; in the end, scoring in the top 2% of all who had been tested, including NASA's new corps of male astronauts.
Janet Dietrich
In 1953 Janet was the chief pilot of Santa Monica Flyers. Janet and her twin were selected to take part in Dr Lovelace's Clinic. In 1960, Dietrich became the nation's first woman to earn an Airline Transport Pilot License.
Wally Funk
Wally was launched into space in a suborbital flight aboard Blue Origin's July 20, 2021 New Shepard 4 mission Flight 16, making her the oldest woman to go into space at age 82.
Sarah Gorelick
Sarah learned to fly in 1949. She graduated from the University of Denver with a Bachelor of Science in maths, minoring in physics, chemistry and aeronautics. During a tour of Europe, she heard about a space research program that produced the Mercury 13.
Jane Briggs Hart
She earned her first pilot's license during World War II, and later became the first licensed female helicopter pilot in Michigan. She later became known for her antiwar activism.
Jean Hixson
Jean began taking flying lessons at age 16 and was able to get her pilot's license by the age of 18. In 1982, she retired from the Air Force Reserves as a Colonel.
Rhea Woltman
She flew competitively, and she also completed one of the major flights of the era for women, a solo flight from Houston to Anchorage (Alaska).  After the Mercury 13, she moved to Colorado Springs, where she did glider training.
Gene Nora Stumbough
While still taking classes at Oklahoma University, in 1959, Gene became the first woman to work as a flight instructor for the school. She later embarked on a 90-day cross-country flight with fellow pilot, Joyce Case, in a Beechcraft Musketeer aeroplane.
Irene Leverton
After Mercury 13, Irene moved to Prescott, where she started her business, Aviation Resource Management in 1985. She was a certificated Federal Aviation Administration Airline Transport Pilot.
Jerri Sloan
When she was 15, Jerri began taking flying lessons without the knowledge of her parents. After this was discovered, she was sent to a Catholic School. In 1961, she got a call from friend Jerrie Cobb, asking for her interest in a secret government project (Mercury 13).
Bernice Steadman
Bernice obtained her pilot's license before she received a driver's license. She became a charter pilot and eventually opened her own flight school. She trained more than 200 men who ultimately became airline pilots at her school.