Chou was an engineer and tech lead at Pinterest and an engineer at Quora. She's also had internship experience at Rocket Fuel, Google, and Facebook.
Chou studied both BSc and MSc at Stanford University. She has a BSc in computer science, specialising in machine learning and artificial intelligence. She later graduated from Stanford with an M.S. in Computer Science. If you want to learn more about software engineering, visit here. >>
Chou felt out of place during her undergraduate course and felt less confident compared to the male students on her course at the beginning. It took her time to realize she was outperforming most of the boys in coursework. This 'out of place' feeling kick-started her proactive attitude to increase the number of women in technology.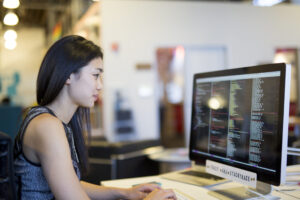 After attending the Grace Hopper Celebration of Women in Computing, she wrote a blog. This blog urged companies to publish the demographics of their STEM employees. She pressured companies such as Google, Facebook and Microsoft to publish their gender demographics of their tech employees. Following her blog, 50 companies published their gender demographics within a week.
Chou believes that most of the disparity between men and women in STEM careers is due to:
a lack of female role models
a lack of networking opportunities for females
a lack of belief that STEM careers are attainable for girls
Tracy has appeared on the covers of The Atlantic, WIRED and MIT Technology Review because of her work. She was named Forbes Tech 30 under 30, MIT Technology Review 35 Innovators under 35, and Fast Company Most Creative People in Business.
If you want to learn more about Tracy go here >>
Tracy also has a Twitter >>
This article was last updated in January 2020.