Valentina Tereshkova is the first woman to go into space. In 1963, she spent almost three days in space and orbited Earth 48 times in her space capsule, Vostok 6.
Growing Up
Valentina was born in 1937 in Maslennikovo, a village about 170 miles northeast of Moscow. She left school at the age of 16 and worked at a textile factory, but continued her education through correspondence courses.
After Yuri Gargarin became the first man in space in 1961, Valentina volunteered for the Soviet space program. Although she did not have experience as a pilot, she was accepted into the program because of her experience in parachute jumps. At the time, cosmonauts had to parachute from their capsules seconds before they hit the ground on returning to Earth.
Up, Up And Away
Along with four other women, Valentina received 18 months of training. This training included tests to determine how she would react to long periods of time being alone, extreme gravity conditions and zero-gravity conditions. Of the five women, only Valentina was chosen to go to space.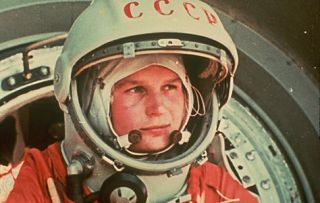 Valentina was chosen to pilot Vostok 6 and logged more than 70 hours in space and made 48 orbits of the Earth. Soviet and European TV viewers saw her smiling face and her logbook floating in front of her. They did not realise that the flight almost turned into a tragedy, a fact that was kept secret for about 40 years.
Read more about space on the Stemettes Zine >> 
An error in the spacecraft's automatic navigation software caused the ship to move away from Earth. Valentina noticed this and Soviet scientists quickly developed a new landing algorithm which allowed Valentina to land safely.
Legacy And Awards
Valentina was honoured with the title 'Hero of the Soviet Union'. She also received the Order of Lenin and the Gold Star Medal. She became a spokesperson for the Soviet Union and while fulfilling this role, she received the United Nations Gold Medal of Peace.
"If women can be railroad workers in Russia, why can't they fly in space?"
– Valentina Tereshkova