On June 12th, Stemettes partnered with G-Research to host an exciting STEM Goals day for 32 young women at their London offices. We discussed all the different ways people begin their Science, Technology, Engineering and Maths related careers. The young women also got the chance to learn HTML, create websites and present their ideas.
And we're off! APA year 9 at @gresearch today learning how to code and exploring skills that will make them true @Stemettes #STEM #STEMeducation #gresearchstemettes #coding pic.twitter.com/FtaetLV1GP

— Ark Putney Academy (@ArkPutney) June 12, 2019
Our panel consisted of four women and a 'mystery man who are in the STEM industry:
Jacinda Fahey – Head of Project and Programme Management
Samantha Rouse – Software Development Manager
Jennifer Byrne – COO of G Research
Emily Adlam – Quantitative Researcher
Dexter Lowe – Distributed Systems Engineer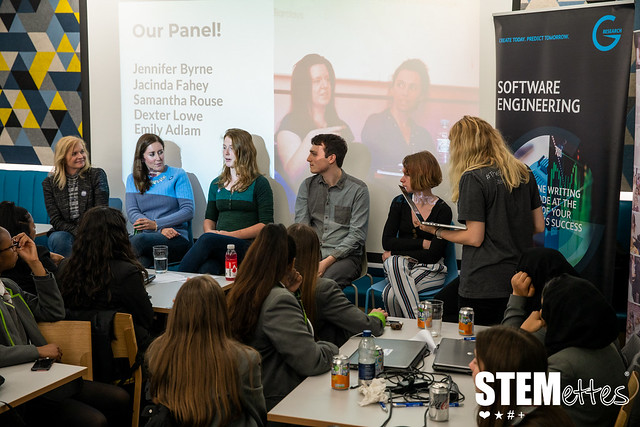 After introducing themselves, the panellists answered plenty of questions from our audience. They were asked about their GCSE options, what first introduced them to STEM and what a usual day looks like for someone working in the STEM industry.
Starting our @GRESEARCHjobs panel with inspirational #WomenInSTEM and our mystery man!#LondonTechWeek #LTW#girlsinstem #girlsintech #WomenInTech #GResearchStemettes pic.twitter.com/A6HF0UDvAk

— Stemettes ® ?★ # + (@Stemettes) June 12, 2019
The Hackathon portion of the day began with a tutorial in HTML, the girls then used the rest of the day to create websites focusing on encouraging companies to reduce their CO2 emissions.
Coding time @GRESEARCHjobs! The brief has been set and the girls will need to create websites encouraging companies to reduce their CO2 emissions. #LondonTechWeek#girlsinstem#girlsintech #WomenInSTEM#womenintech#GResearchStemettes pic.twitter.com/ABMaDidoAI

— Stemettes ® ?★ # + (@Stemettes) June 12, 2019
In terms of impact:
Attendees rated the day 8 out of 10
100% had an increased positive perception of STEM careers
100% had increased their STEM awareness
100% had an increased STEM network
96% had an increased confidence in STEM
You can catch what happened in our video: