Dame Zaha Mohammad Hadid DBE, was a multi-award winning Iraqi-British architect. Her mother was an artist and her father an industrialist from Mosul. Hadid's early childhood memories of visiting ancient Sumerian cities sparked her interest in architecture.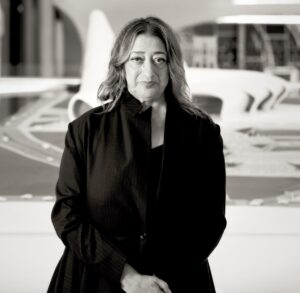 She earned a Bachelor's degree in Mathematics in Beirut, Lebanon in 1972. She later moved to London to pursue her dreams and study at the Architectural Association (AA). The AA is a major centre of progressive architecture. Upon graduation, she joined the Office of Metropolitan Architecture (OMA). She went on to teach at the AA with renowned OMA collaborators Rem Koolhaas and Elia Zenghelis.
During her career, she taught architecture at many prestigious universities including the Harvard Graduate School of Design, the University of Cambridge and the University of Chicago. This is where she gained a reputation from her students for her colourful and radical designs.
Read more about Architecture on the Stemettes Zine >>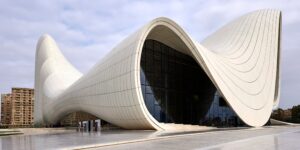 Zaha Hadid's Achievement's
2004 – The first woman to win the Pritzker Architecture prize, considered the professions highest honour. 
2005-2006 – Member of Encyclopaedia Britannica Editorial Board of Avision
2009 – Japan Art Association Praemium Imperiale prize for Architecture
2012 – Awarded Dame Commander of the Order of the British Empire (DBE).  
2016 – Awarded the Royal Gold Medal for architecture
Hadid has a strong legacy and her impact is still evident in many ways. She is often named as the Most Influential contemporary Female Architect. 
In London, 1979, Zaha founded Zaha Hadid Architects. Some of her works include:
• The London Aquatics Centre in the Queen Elizabeth Olympic Park
• The Riverside Museum in Glasgow
• J.S. Bach Pavilion in Manchester
Her refusal to compromise on her ideas and overcoming gender and ethnicity barriers is why she is a role model for all. She is an example for all demonstrating that anyone can excel in any field they choose to pursue. You can be the next Zaha Hadid.
If you feel inspired, check out Zaha Hadid's website >>
For Architecture opportunities check out:
Manchester School of Art
New London Architecture
Royal Institute of British Architects.
---
This piece has been written by Stemette, Jahzara
Last updated 17 Mar 2022.