Anika grew up in Delhi, the capital city of India. While at school, Anika wanted to be doing a range of things when she grew up such as being a Chef, Professor, Environmentalist, Oil-painting Artist, Fashion Designer and Astronaut too! Various subjects had a charm of their own and she was curious to learn. It was a  difficult choice! She kept choosing subjects which kept her engaged and provided a wide range of future prospects.
Education 
As she was nearing high school, Mathematics was proving hard for her and her classmates,  due to inadequate guidance from the designated teacher in school. Being among the top 5 scorers for most subjects, it was a really low point for her when she got a borderline score in Mathematics. The teacher even told her parents that she will NEVER be able to score well in this subject! Her parents connected her to their friend who had a passion for doing magic tricks and puzzles using Math, as well as an external tutor to help her understand mathematical basics. She got curious to learn the magic behind her uncle's tricks and started applying the concepts to real life. This proved amazing for her to develop an interest in the subject. In fact, she topped in the subject the next year… only to say to her old teacher that 'Never say NEVER'!
Once she got hold of the foundational aspects, Math easily became her favourite subject! She went on to graduate with B.Sc. Mathematics, followed by a dual MBA degree in Marketing & Finance. During her MBA days,  she came across a subject on Data-based Analytical Methods, which due to her love for Maths and opportunities for practical applications, became an instant favourite of hers. It started to become clearer what she would like to pursue as her career! Among the batch of 200+ MBA graduates, she was the only one to opt for a  data analytics consulting role!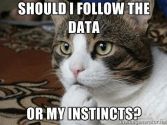 Career Journey 
Over more than a decade, her role evolved from market research, data analytics, and analytics solution consulting, to more advanced data science and machine learning. This exposed her to various aspects of data science from hands-on coding, solution design, and translational consulting as well as developing product strategy. Over time she has developed cross-functional skills and multi-industry knowledge, which allow transferability and adaptability to a wide variety of roles.
Three years back, when incidents of racism in Artificial Intelligence (AI) were being reported, she started exploring if data-based analytical methods can help drive the ethical use of AI/ML, and from there on went to establish the technical pillar for this area and led the market efforts for Accenture-AI in the ASEAN region. She also worked with the Monetary Authority of Singapore (MAS) Veritas consortium to produce FEAT-Fairness assessment methodology.
After this, she joined the H&M Group as the Responsible AI & Data–Governance lead, with a focus to drive policy to operational practices. She is working to embed responsible AI and data practices across the development lifecycle.  She also actively works to drive awareness on the topic across the organization and develop resources which can make the adoption of these practices easier.
She remains eager to enable businesses to drive improved decision-making through data-backed solutions and furthermore, bridge the gap between technical and business functions!
Advice 
Even if you are not 'currently' good at something, do not let anybody weigh you down. Find mentors who make you feel excited about the subject and nurture your mind!
Develop a T-shaped profile, with various transferable general skills but one speciality skill for which you are the expert.
Whatever is created by humans, can also be understood by humans. So never stop trying!